Thank You Letter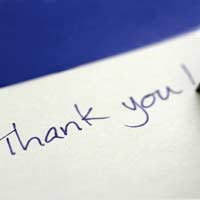 There are any given number of reasons why you might want to send a thank you letter to express your gratitude to somebody.
It might be because someone has looked after you whilst you've been poorly. You may want to say thanks to your colleagues for buying you a present on the day you left work for another job. It may be to thank someone for looking after your dog whilst you went on holiday. The number of reasons are endless and you can say thanks in a letter for a whole host of reasons.
How to Write a Thank You Letter
The one thing all thank you letters have in common however, is to express gratitude and appreciation to somebody for their kind actions, thoughts or words aimed towards you. And, whether it's taken a lot of effort or not on their part, if you've been positively affected by what they've done to help you, then the gesture of a thank you letter is a good way to let them know that they are appreciated and that you value their presence in your life.
Here is an example of a personal letter of thanks.
Dear Uncle Bob,
Thank you so much for driving me up to Edinburgh to start my new 'life' at university. It's all going really well for me up here.
With Dad's car still off the road, I didn't have a clue how I was going to get my computer and all of my CDs and DVDs up to my new digs - not to mention all those suitcases full of clothes. I certainly wouldn't have coped on the train.
It was lovely to see you again. I often think back to when I was younger and Mum and Dad used to bring us all over to Devon to your beautiful cottage on the coast. We had some great times on the beach in Newquay, didn't we, and I still have a 'thing' about Devonshire cream cakes!!
It was good to hear that Alfie, your Jack Russell, is now well on the mend after his operation. I know just how much you value his company and some of the stories you told me about him had me in stitches on the car journey up to Edinburgh.
Well, thank you once again for bringing me all the way up here. You made the journey a lot of fun. I only wish you weren't so stubborn and would have accepted the petrol money I tried to give you. I'll have to stuff it in your pocket myself next time!
Keep in touch and I look forward to seeing you at Christmas.
Lots of love,
Jane
You might also like...
@annie. Our sister site thank you letters has a
good example here.
LetterExpert
- 24-Oct-14 @ 12:01 PM
would like a bit of support in writing letter to a professional who helped me with a very difficult situation in my work place attending meetings an appeals Advice regular support /meetings speaking out for me
annie
- 22-Oct-14 @ 12:29 PM