Announce Religious Event: 1st Communion etc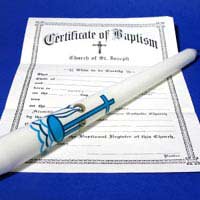 Sending a letter to announce a religious event such as a baptism, first communion or bar mitzvah allows you to do several things at once. The letter itself lends a certain dignity and respect to the event, and it allows you to include as much detail or as many pictures as you would like. A letter announcing a religious event also gives you the opportunity to reach many family and friends at little expense, and very nicely give any instructions or directions you feel the event requires. While the content and format of such a letter is up to you, maintaining some degree of formality is encouraged to match the solemnity of the occasion.
Content of a Letter Announcing a Religious Event
Some people send letters announcing religious events prior to the event and use the letter as an invitation. In this case it is best to include details of the event (for example, what a baptism, first communion or bar mitzvah means in the family's religion), plans for celebrations following the event, any dress code requirements and/or instructions regarding gifts. Letters announcing religious events can also be sent after the event has occurred as a way to let others know that it has already happened. Giving some information about the event, memories of the special day and personalised thank you messages to those who sent gifts are always appropriate. If the event involved a child, then having him or her hand write a short note to each letter to help personalise it is also a good idea.
Format of a Letter Announcing a Religious Event
A letter announcing a religious event does not need to be formatted formally, but should be respectful of the occasion. Including the sender's contact details, the date and an informal salutation such as "love" rather than "kind regards" and a variety of pertinent borders or images may be included. Fonts should be easy to read and letters printed clearly onto appropriate paper (either white, cream or lightly decorated with relevant designs). Posting a letter announcing a religious event is probably the most appropriate method of delivery.
Sample of a Letter Announcing a Religious Event
The Cartwright Family
Postal Address
29 May, 2010
Dear Marco and Marie,
Mary Catherine's Christening
It is with great pleasure that we announce the christening of our youngest daughter, Mary Catherine, on 3 July, 2010.
The baptism will take place during the evening mass at 6pm in St. Bernadette's Church, [Address].
Following the christening we will be hosting a celebratory dinner at our favourite local restaurant, The Bistro, and we would be honoured if you would attend.
Directions to both St. Bernadette's and The Bistro are included. Please do not hesitate to contact me if you have any questions.
RSVP by 28 June to [Telephone Number] or [Email Address].
We hope to see you soon!
Love,
Margaret and Patrick
You might also like...