Announcing an Engagement by Letter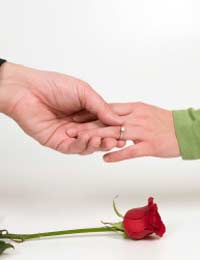 An engagement is a life-altering event, one that the happy couple will no doubt want to share with family and friends. Writing a letter about the engagement is a great idea for reaching a number of people quickly and easily, and with enough details that everyone will feel they know exactly how it happened and what's next for the couple. As a personal letter this type of communication does not need to be formally formatted, but it should be easy to read and even pass along!
Content of an Engagement Announcement Letter
A letter announcing the engagement of a couple should of course include the main message that the couple is now set to marry, but it is also appropriate to include other information as well. Where and how the engagement took place, a brief history of the couple's relationship, information on the upcoming wedding, wedding shower or engagement party and explanations of any plans particularly special to the couple could all be included in an engagement announcement letter. If a wedding will take place in a foreign destination or will otherwise be kept to a minimum number with the plan for a bigger celebration later then an engagement announcement letter could also be the appropriate method for disseminating this information.
Format of an Engagement Announcement Letter
A letter announcing a couple's engagement is a personal letter, so no strict rules of formatting need to be followed. The important thing is that it is easy to read, or even scan to pass along, so a simple font and clear printing are essential. Headers, footers, borders and images could all be used to help couples show off their personalities a little, but all designs should be tasteful as an engagement announcement letter is not the place to show off a wild side. As a general rule of thumb, everything in an engagement announcement letter should be appropriate enough to show the kids in the future, or the grandparents now.
Sample of an Engagement Announcement Letter
June 22, 2010
Dear Grannny and Granddad
It is with great joy that I'm writing to let you know that Oliver and I have become engaged!
The engagement took place last Saturday while we were on a mini-break in Paris. Oliver and I met while taking art classes at the Louvre but we never actually toured the entire gallery. I thought we were returning to Paris to browse more of the museum, but when we stopped in front of my favourite Gainsborough painting and Oliver got down on one knee I realised there was much more to this trip than I thought. Soon after I said yes an entire tour group began cheering for us and I could hardly pay attention to the art anymore because I was too busy staring at the beautiful art deco ring Oliver had just given me. We gave up trying to pretend after a little while and retired to a lovely bistro for champagne to celebrate the occasion.
We hope to have our wedding in Paris around Christmas time but we have a lot to organise so I don't have many details as yet. As soon as I know more I will write with the information, and in the meantime Oliver and I would like to invite you to a little celebration we will be hosting for our families and close friends on the 24th of July. We will be having a bit of an open house culminating with dinner at 7pm, so please feel free to drop in at any time. We look forward to seeing you then!
Love,
Gwen
You might also like...