Announcing a Birth by Letter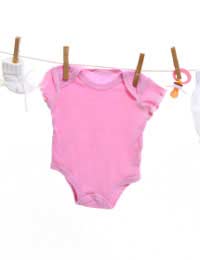 Adding a new member of the family is a momentous event and many new parents like to make this announcement with a more traditional letter. As a personal letter this type of communication can be formatted in just about any manner the parents prefer, or could even be formatted to fit on a birth announcement card or the back of a photograph of the new baby.
In general, announcing a birth by letter means slightly more information will be given than just the facts of the birth but this flexibility means that parents can get as creative as they like with the content and format.
Content of a Birth Announcement by Letter
Obviously the details of a baby's birth will be given in a letter written for this purpose, but details on the new baby's personality or growth, how older siblings are handling the new addition and how the new family is operating as a whole are all appropriate content for such a letter as well. Some parents even choose to share snippets of notes they wrote to their new babies, quotes that they scrapbooked or added to birth journals, or poetry that was written in honour of their new children.
Parents who keep diaries or write blogs may also include passages from these sources in a letter announcing a birth. If a baby will undergo a religious ritual such as a baptism soon then details of this event may be included too. It really is up to the new parents as to what they feel is most important or fitting to include in the letter which lets others know about their little bundle of joy.
Format of a Birth Announcement by Letter
A letter announcing the birth of a new baby is a personal letter and as such is free from the more stringent formatting requirements of business or "official" letters. The most important aspects of formatting for a birth announcement by letter is to make sure that the font is legible and the print is clear. Breaking longer letters into shorter paragraphs is also a good idea to make it easier for the readers.
The tone of these letters is usually friendly and enthusiastic, conveying the happiness and excitement of the new parents. If possible, include a return address in the letter or on the envelope so that others can respond in kind. Postal delivery of letters announcing a birth is always appropriate though some parents may prefer email or even hand delivery as well.
Sample of a Birth Announcement by Letter
Dear Aunt Katherine and Uncle Frederick,
New Arrival!
It was with great joy that Timothy and I welcomed baby Millicent Marie into the Dowling family at 2:37 am on the morning of 7 Dec 2023. Millie, as she quickly became known, was a healthy 7lbs 4 oz (3,288.5 grams) and about 20 inches (50.8 centimetres) and has been growing like a weed since then!
Millie has a sweet disposition and has already asserted her preference to have Mummy give her her baths and Daddy sing her to sleep at night. If she's really lucky Timothy even gets out his guitar to serenade her! So far Max, our Labrador Retriever, isn't quite sure what to make of Millie but we have high hopes that they will soon be the best of friends.
Millie will be baptised at my childhood church sometime in the month of October. We hope you will be able to attend her christening. Details to follow, but we would love it if you could make a day of it and come back to our house for a bit of a celebration after as well.
We can't wait for you to meet Millie!
With Love,
Victoria
You might also like...