Letter Announcing an Adoption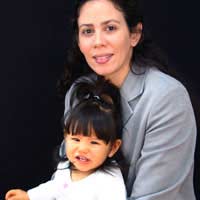 Both the decision to adopt a child and the finalisation of an adoption are events that many families like to share with others via a letter. A letter announcing an adoption decision can be as brief or detailed as the writer desires. A letter announcing the finalisation of an adoption tends to be slightly longer because it usually includes more details of the successful adoption journey. Both types of letters are personal and do not require formal formatting or printing.
Announcing the Decision to Adopt
A letter announcing the decision to adopt can include as many details or as much of an explanation of the decision as the writer sees fit. Often such letters include a statement of the decision to adopt as well as details of the steps the writer has taken in order to start the adoption process. Such letters may also notify friends and family that their help will be required during the adoption process such as during interviews or by writing letters required by the adoption agency. If something has been created to keep family and friends updated on the process, such as website or 'blog, then details of these sites may also be included in these letters.
Sample of a Letter Announcing the Decision to Adopt
27 October, 2008
Dear Jillian,
As you know, Andrew and I have been hoping to have another child and we have recently made the decision to adopt a child from China! We could not be more excited to add to our family and we have already begun working with [Name of Adoption Agency] in order to bring our new child home as soon as possible.
[Adoption Agency] requires us to submit [Item] in order to process our application, and we were hoping that you could provide [Item]? I have all of the details about this and I would love to take you to lunch to discuss it further. Please let me know if you would be interested. I look forward to seeing you soon and sharing more about this huge decision!
Love,
___________
Andrea
Announcing the Finalisation of an Adoption
A letter announcing the finalisation of an adoption usually includes details of the adoption and the new family member. This may include details of any journey that was taken to collect the child, how the new family is getting along and any fun things that the family has planned for the immediate future. Such letters also often thank friends and family for their support during the adoption process and let them know of future plans to celebrate the adoption. If there is an online presence about the adoption, such as a new website or blog or pages at the adoption agency's site, then information on these items may be included as well.
Sample of a Letter Announcing the Finalisation of an Adoption
16 April, 2009
Dear Jillian,
I am delighted to announce that our daughter, Mary Mae, was born on [Date of Birth] and officially joined our family on [Date of Adoption].
Mary is a sweet, calm little girl who enjoys nothing more than being held by her older brother Stephen. Even on our flight home from China she was happiest when near him. Andrew and I are just hoping that this doesn't mean the two of them will team up against us in the future!
I want to thank you again for all of your help and support during the adoption process. I know that we could not have done this without you. In the next month or so we will be having a party to introduce Mary to everyone and we would be honoured if you could come up and attend. I'll send along more details when I have them.
Again, thank you so much for helping us bring Mary into our family.
Love,
____________
Andrea

You might also like...