Fan Letter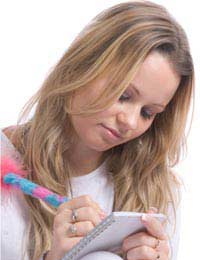 A lot of people might assume that writing a fan letter is something we only did when we were teenagers when, for example girls might send fan mail to the guy they idolised in any number of boy bands and lads would often send fan mail to their favourite footballer. However, the reality is different.
Fan letters are not just sent by teenage girls who have a crush on someone in a boy band but are sent by people of all ages, and not just simply because they 'fancy' somebody but they can also be sent to express their admiration of somebody who's usually in the public eye for one reason or another.
Fan letters, to a lot of people, are all about connecting in one way or another to a person who's famous. Many rational 'fans' understand the sheer volume of fan mail that a famous person might receive and, so, fully realise that the likelihood of the focus of their attentions will ever see their letter personally is almost zero and that they are only likely to receive a reply from an official worker who is acting on behalf of the celebrity to answer these kinds of letters and even that doesn't happen often.
How to Write a Fan Letter
They are an unusual type of letter in that they are written in a style that suggests that they know the famous person intimately and in a way which suggests a reply is warranted, yet they also realise that there is next to no chance of receiving a reply so it's not unexpected when they don't get one.
However, for others, they honestly feel that the person to whom they are sending the letter will actually read the letter themselves and acknowledge it personally. When that doesn't happen, the fans can get quite upset and cannot understand the notion that their letter, which they've put so much effort into, never reaches the intended person for whom it was written.
Whichever type of category a fan's obsession or healthy admiration belongs, the one thing in common with most fan letters is that they are always written from the standpoint of thinking they know the celebrity personally and will write in a very personal and intimate style to reflect that notion which will usually be very chatty, informal and often highly emotive and they will often ask questions in order to feel that the celebrity might just personally respond with an answer. Unfortunately however, due to time constraints and many other commitments, they rarely do.
Here is an example of a typical fan letter although they will differ in style depending on the kind of role for which the person is famous for and the age of the person sending it. This one is typical of a teenage girl writing to her favourite pop star.
Hiya Jake,

I just wanted to let you know what a 'fab' concert you and the boys put on last night in Manchester. It was absolutely fantastic. Me and my best friend Libby were in the front block in the middle of the arena about 10 rows back from the stage. I had the lime green T-shirt on and Libby was wearing a sky blue jacket. Did you see us waving to you?

It was the best gig I've ever ever been to and I just can't stand the thought of having to wait a whole year to see you in the flesh again. Can't you come back any sooner?

We took lots of photos - I know we weren't allowed to - but I just had to smuggle my camera in. Thank God we never got caught and chucked out of the hall!!!

When I get round to putting the pics onto the computer, I'll send you a few over and I'll send you some of me and Libby so you can see what we look like. We're hot!!! Ha Ha!

It's only fair then that you send us a couple of you too, isn't it so will you do that and sign them for us…..PLEAAAAASE???!!!!

I'll be in touch with you again really, really soon and me and Libby love ya loads and send you loads of hugs and kisses. Thanks for a great show.

All our love,

Gemma (Gems) and Libby (the Goddess)

xxxxxxxxxxxxxxxxxxxxxxxxxxxxxxxxxxx

PS We LURRRRVE YOU LOADS AND LOADS!!!
You might also like...