Confirming an Order via Letter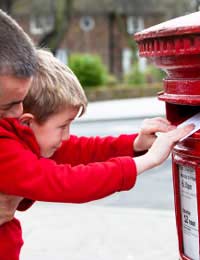 When an order is placed with a service provider, whether it's a local plumber or an online retailer, a confirmation of the order is expected. Business letters including details of the order, information on how the order will be fulfilled and what the customer can do if the order is not fulfilled to his or her expectations is an efficient way to confirm orders. Customers who do not receive such communications can even contact the service providers themselves to check on this information.
Details of the Order
Obviously any letter meant to confirm an order will need to include details of the order. Pertinent information should be re-confirmed so both the service provider and customer can agree on these facts. Order details should include:
Date the order was placed.
Items ordered, including descriptions and quantities.
Price of each item ordered.
Total price of order including taxes and charges.
Full name of the customer who placed the order.
Billing and delivery addresses, if needed.
Method of payment.
A date for the fulfilment of the order
A reference number should the order need to be discussed in the future.
Information on Fulfilling the Order
Once an order's details are confirmed in the opening of a letter, information on how the order will be fulfilled should be provided. This may be as simple as stating that the order will be sent via post and an email will be sent when it has been dispatched. It could be linked to an online system, such as providing customers with a link or tracking number for real-time information on the status of an order. If an order can not be fulfilled immediately, information on why this is the case and when customers can expect fulfilment should be included instead.
Instructions for Substandard Orders
Unfortunately, some orders will not meet the expectations of customers. Confirmation letters should close with instructions for how customers can deal with substandard orders, including:
Exchanging items
Returning items for a refund
Returning items for some sort of credit
Making a complaint about an order or item
Being removed from an organisation's mailing list
Format of a Confirmation Letter
A letter confirming an order should be formatted formally as a business letter. This will require the inclusion of the sender and recipient's name and mailing address, the date of writing, formal salutations and closings as well as a signature of the writer. Printing this type of letter on organisational letterhead and delivery via post or email are most appropriate.
Sample of a Confirmation Letter From A Service Provider
Very Good Gadgets
Mailing Address
Date
Christopher Customer
Mailing Address
Dear Mr. Customer,
Thank you for placing an order for 27 Wacky Widgets from Very Good Gadgets. This order was received on 11 May, 2010 and given the reference number ABC123.
The total cost of your order is £30.50 (27 Wacky Widgets at £1 each, plus £3.50 for postage and packaging) and as you have elected to pay via cheque the order will be dispatched to you at the above address once payment is received. You will receive an email upon dispatch of your order.
If you have any questions about your order, please contact Customer Services on [Telephone Number] and quote your order reference number. Should you not be pleased with your Wacky Widgets you may return them for a full refund within 6 months of delivery, or a credit any time after that.
Thank you again for choosing Very Good Gadgets to fulfil your Wacky Widget needs!
Sincerely,
_______________
Gary Gadget
Customer Service Representative
Sample of a Confirmation Letter From A Customer
Christopher Customer
Mailing Address
Date
Very Good GadgetsMailing Address
Dear Very Good Gadgets,
I placed an order on 12 May, 2010 for 27 Wacky Widgets from your customer catalogue, to be delivered to me at the above address. I have not receive confirmation of this order yet, nor the detailed instructions I was to receive regarding paying by cheque.
I would appreciate it if you would now confirm my order, send me the required payment instructions and let me know when I can expect delivery of my Wacky Widgets.
Thank you,
__________________
Christopher Customer
You might also like...
Thank you for the information. it's really helpful for me.
NURUL
- 15-Oct-11 @ 3:07 AM