Request for a Quote (Household Jobs)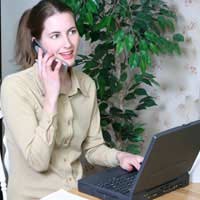 If you are planning to hire the services of a tradesperson to carry out some work at your home you'll usually begin by calling a few of them to get some basic comparisons on cost. It's wise to make a few comparisons first and not just accept the first quote you're offered as you may find you're able to save a considerable sum of money by shopping around several providers.
However, let's assume you've been given a few verbal quotes over the phone or by having the tradesperson(s) visiting your home and offering you a verbal quote. You've had them provide you with references and have verified them as a bona fide tradesperson with qualifications and experience to carry out the specified job.
Why Write a Letter to Request a Quote?
If you've then whittled this down to the one person you're looking to offer the work to, the next stage is to ask them to send to you their quotation in writing. Whilst many of them will do this as a result of you asking them to do so verbally, it's far better for you to put your request for a quote in writing. That way, if any disputes result upon completion of the work, you not only have their written quotation but you also have a copy of your own letter which will specify in detail exactly what you wanted them to quote on. That way, they cannot charge you extra for 'add-ons' at the end of the work, unless you've specifically been notified about that and have accepted that as part of your agreement.
How to Write a Letter Requesting a Quote
Your letter should state the exact nature of the work you wish to have a quotation for, including breaking that down into materials and labour costs, the date upon which the tradesperson can commence the work and also the date by which the work will be finished. These are all key issues which you need to have clarity on before you decide to offer them the work so that they can't dispute the agreement later.
Sometimes, a job might be bigger, involve more people (sub-contractors etc.), be reliant on the weather, and it may contain many other complex factors surrounding it that a tradesperson may come back to you and provide you with his best 'estimated' quote. This is not uncommon practice as some jobs have many variables. However, in this instance, if they are going to provide you with an 'estimated quote', you should also ask them to include a figure which represents the highest possible total you would have to pay. If they can't do this for whatever reason, then you run the risk of the costs escalating should the work run over budget due to additional materials and over the estimated time span which means additional labour costs.
The letter can be addressed formally or even informally if you've built up a relationship with the tradesperson, either over the phone or in person but you should ensure that the details contained within the letter are accurate and constitute a formal agreement. Remember, what might begin as an amicable business relationship might end up in court if things go drastically wrong.
You might also like...