Letter to Neighbours Regarding Building Work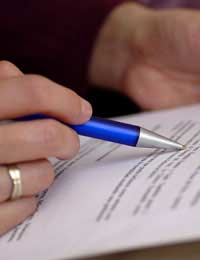 Building work can be disruptive to a small area, so it's always nice to let your neighbours know your plan when it comes to having work carried out on your home. Sending a letter allows you to address what will be happening and when, how it might impact your neighbours and express your thanks in advance for everyone's understanding. Keeping these letters more formal is a nice signs of respect for your neighbours.
The Building Plan
While your neighbours will undoubtedly have had access to your building plans during any planning permission process, it's a good idea to remind them of what is about to happen to your home and how long it should take before work commences. If you don't have a firm end date in mind, give your best guess or preface it with a phrase like "we hope work will be completed by..." or "weather permitting, we should finish between...". Don't promise anything you can't deliver, instead simply let them know the information you have to hand at the time of writing.
Impact On Neighbours
Building work at your home could have an impact on your neighbours lives, even if you have done your best to keep everything as contained as possible. When you write to your neighbours, let them know if there is anything they could expect to encounter during your renovations, including:
More vehicle traffic in the area, including parked vehicles
More pedestrians/strangers in the area as workmen come and go
General building noise during working hours
If and where a rubbish skip may be stationed in the area
If and where portable toilets will be used
If any utilities (water, gas, electricity) will be involved in the building work
Contact information for your building company should complaints arise
Thanks In Advance
In the interest of good relationships, thanking your neighbours in advance for their patience while you carry out building work on your home is important to any letter you send them on this matter. You don't need to grovel, but a simple expression that you know their lives may be impacted and you appreciate their goodwill should help everyone feel respected. If you plan to share the fruits of this work when the building is done, for example hosting a pool party or enjoying tea in a new sun room, go ahead and add this too to give everyone something to look forward to.
More Formal Formatting
Your neighbours deserve more than just a note dashed out at the last minute when you are letting them know about upcoming home renovations. Use a slightly more formal format to your letter with elements like:
Your contact information
The date of writing
Formal, personalised greetings ("Dear Stan and Martha")
Formal conclusions ("Sincerely, Enid")
A written signature
Printing on clean, clear paper in a crisp, easy to read font
A whimsical border to add a little levity to your communication
Hand delivery to your neighbours' doors or post boxes
Sample of a Letter to Neighbours Regarding Building Work
Ms. Mavis McGonagle
Mailing Address
Telephone Number or Email Address
2 September, 2010
Mr. Robert Patterson
Mailing Address
Dear Rob,
I am very pleased that work on my kitchen extension will begin soon, and wanted to let you know that the work is set to be carried out between 13 September and 18 October or thereabouts.
I have engaged Best Kitchen Makeovers to do the extension for me, and have instructed them that work may only be carried out between 8:30am and 4:30pm on weekdays. Everyone involved in the extension will need to park on the street, but all items associated with the building (skip, portable toilet, etc) will be located in my back garden out of view.
Mr. Peter Botham is the Best Kitchen Makeovers representative in charge of this work, and he can be contacted on [Phone Number] should you need to speak with him. All tradespeople involved in this work should be wearing navy blue uniform shirts at all times.
Thank you in advance for your understanding during this upcoming month of work, and I'm looking forward to many great dinner parties with you when the new kitchen is ready and working!
Sincerely,

______________
Mavis McGonagle
You might also like...
Hi all, I brought a lot couple years back and started my building as a primary house at that lot. But the develop is delaying his work off the road by having an issue with the city. Where because of that city gave a stop order on my building. city also gave my builder permission to complete exterior of the home due to this issue. But when I spoke to city they also revealed that the builder didn't get building permit. But builder said that he got permission and he started the construction. He also said that the city took out the permit before he went to pick the permit. Not they are say it that we don't have permission for building. Also they (city) worked with my builder before and they said that they are ok with the building. They(city) alsosaid that the construction is all set with what builder has done till now. But they are giving the stop order because of the issues with the road which developer is working on. They (city) also said that we can give permission to complete whole house if I sign a contract with city which says that they are not responsible for utilities until the developer completes the development of the road according to the city's requirements. Also I would loose the rights to sue city in this regards. Please assist me with this query. I am also trying to contact the people who brought the lots in that community near by my lot. Need assistance is filing a suit against the developer. Since he is not giving a date to complete the road. He (developer) says city is not supporting him with the development. But city says there are issues in the road construction and developer is delaying it. Please help me in drafting a template for sending a letter to neighbors who drought lots in my community so that they can build their homes there.
Manu
- 3-Jan-23 @ 12:22 AM
We're having the driveway and front of the house done in about 4-6 week time depending on the weather. How should we inform both neighbours about the work, noise, vehicles, etc. Thanks.
Lancslass
- 25-Jul-19 @ 1:51 PM
We are submitting a rezoning application for our property so we can subdivide into two lots instead of just one. What should I include in my letter to nearby neighbors? We want to give them a heads up prior to the formal letter they will get about the public hearing. Thanks.
I live in a semi detached house. It has a double story extension which has a shared roof gully connecting the two roofs. The room adjacent to this gully on my side is suffering water ingress. I have had 3 roofers go up and all have said that the construction of the roof gully has been done incorrectly - without any stepping. The current owner of the house next door was living in the property when the extension was done (13 years ). I was not. The neighbour was informed of this incorrect installation of the gully by a revious roofer who tried to remedy the water pooling and ingress, however the water ingress has just moved places. I have got 2 quotes to put this right. The problem is that the neighbour is very hostile, she does not respond well to any concerns we have had so how do I write to her about the problem and about adding a contribution to the work that needs to be done. Any help would be very much appreciated as it is a lot of money to shoulder on my own when we both share the roof. (and will both benefit from the work)
QuestionsQuestions
- 30-Aug-18 @ 10:54 AM
Hi.I am looking to sell my top floor flat (part of a victorian house conversion).On the bathroom, at the back of the house, is a flat roof which is the same size as the bathroom.I have taken advice that building a pod structure on this would be a great way for any future purchaser to be able to add a second bedroom to the property.This would make it more desirable for the sale. I jointly own the freehold with the 3 other flats and would like to get their written permission. Any idea what kind of letter i would need which states that they are happy in principle for this dwelling and one that would cover a future sale.At present the maintenance of the roof is a split cost amongst the freeholders. Your ideas would be gratefully received.
Julia Horstmann
- 27-Apr-18 @ 2:29 PM
I would like to get a 1ft x 34ft strip of garden back from my joint freeholder. They bought their property in 2009. The previous owner had made various changes to the property before selling on, for which they should have obtained planning/building regulations and permission from the previous owner of my flat. I bought my flat in April 2017. With regards to the garden,a fence was erected by the previous owner of my neighbours's property giving them 11 ft and leaving the section I have as 9ft. The lease plan shows that both gardens were originally demised10ft width each. There has be no alteration to the Leasehold, no Deed of Variation. Unfortunately, things have soured between myself and my joint freeholder. I need help in know how to write a letter without having to instruct a solicitor. I would like to re-instate the strip of garden as this will make a difference to an extension for which I have been granted planning.
Jacs
- 18-Oct-17 @ 9:54 AM
EP - Your Question:
We have had our plan completed for our extension for a single story at the back of the house- our semi detached neighbours do already have this extension which will join our new extension but the architect says we need to get the neighbours permission to have it up to there wall? Otherwise we have to leave a pointless 8inch gap! (Which will obviously make our extension smaller!) Obviously we will be formally writing to our neighbours to inform them of the construction- but do we really need permission from them to have our walls to meet? They already had there extension before we moved in 3 years ago so not sure what permission was granted from the previous owners. I would like to make them aware that we are building up to there wall - just like they have built up to our house - rather than ask permission- is this possible?Many thanks EP
---
Our Response:
You need to seek professional advice before sending this letter.
LetterExpert
- 2-May-17 @ 11:35 AM
We have had our plan completed for our extension for a single story at the back of the house- our semi detached neighbours do already have this extension which will join our new extension but the architect says we need to get the neighbours permission to have it up to there wall? Otherwise we have to leave a pointless 8inch gap! (Which will obviously make our extension smaller!) Obviously we will be formally writing to our neighbours to inform them of the construction- but do we really need permission from them to have our walls to meet? They already had there extension before we moved in 3 years ago so not sure what permission was granted from the previous owners. I would like to make them aware that we are building up to there wall - just like they have built up to our house - rather than ask permission- is this possible? Many thanks EP
Need advice.I bought a property 15 years ago . The neighbour had his property before I could move in and lives in another country. He insist that I built a wall which has encroached on his boundary and now wants it to be removed on my expenses. If I do not respond to his demand he will demolish the wall and I must bear the cost as well.He states that the wall poses a risk and must be removed immediately. The state of the wall has been the same eversince I moved in and want to know legally what can be done and if i do not adhere to his demand.I have just paved the whole area around my property and not prepared to upset thearea .Further to that , why did he allow the previous owner to continue erecting a wall that he knew that was on his retaining wall and encroached on his boundary and 15 year later is asking me to remove the retaining wall. .regards v