Letter from Landlord to Terminate a Lease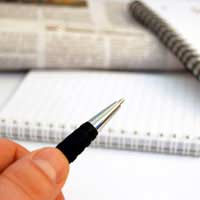 As a landlord it is imperative to have good communication with your tenants. This is particularly true when it comes time to discuss an existing lease, especially if the lease will be terminated when it ends. Sending a letter to advise existing tenants of the termination of a lease is an excellent way to make sure everyone is on the same page. Such letters should clearly communicate when the lease ends, and be formatted in a formal style to add extra emphasis to the landlord and tenant business relationship.
Content of a Landlord Letter to Terminate a Lease
As a landlord it is your duty to determine if your tenants would like to stay on after their current lease ends. In the same way it is your duty to notify your tenants in good time if a consecutive lease is unavailable. Doing so by letter is a good idea in that it gives you a paper trail of your notification, as well as allows you to state your case clearly to your tenants. Don't forget to include:
The date on which the existing lease ends.
A statement that the tenants may not stay on after this date.
An explanation of why a new lease is unavailable, if desired.
An offer to write a letter of recommendation for your tenants, if desired.
Information on other available leases, if known.
An expression of good luck for the future, if on good terms with your tenants.
Format of a Landlord Letter to Terminate a Lease
The landlord and tenant relationship is essentially a business relationship in which money is paid for goods (property) and services (management) rendered. This means that written communications between landlords and tenants should always be formatted formally as traditional business letters.
Example of a Landlord Letter to Terminate a Lease
Mr. Walter Baker
Landlord of [Tenancy Property Address]
Mailing Address
Date
Mr. Thomas Wilson
Tenant
Mailing Address
Dear Mr. Wilson,
It is with regret that I must advise you that when your current lease at [Tenancy Property Address] ends on [Date] there will be no opportunity for you to stay on with a new lease at this property.
After several decades of leasing this property I will be returning to make [Tenancy Property Address] my full time home. While I am very excited to be returning to [Town Name], I do understand that this may impact your own plans and thus wanted to give you several months notice so that you have ample opportunity to find a new home.
I am very happy to write you an impressive letter of recommendation should your new landlords require such, and I also know of several new properties coming onto the leasing market around [Town Name] if you would like this information.
I have been very happy to have you as my tenant at [Tenancy Property Address] for the last [Number of] years. Thank you again for making my job as a landlord an easy one.
Best Wishes,

________________
Mr. Walter Baker
You might also like...