Writing a Letter of Complaint to Your Bank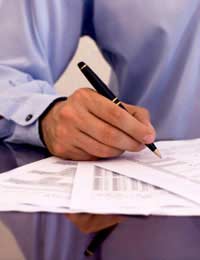 Over recent years, we have all become more aware of people writing letters to their bank complaining of unfair bank charges which have been levied against them and, having read some useful tips, many people have been successful in getting charges refunded as a result of their complaint.
There is another article on this website which is specifically aimed at writing a letter of complaint to have charges refunded. However, there are many other reasons why you may have complaints about your bank and here are some useful tips in what you should be looking out for if you decide to write a letter of complaint to your bank.
Reasons Why You May Write a Letter of Complaint to Your Bank
Apart from trying to reclaim unfair bank charges, there are several other reasons why you may want to be complaining to your bank. You may have been the victim of a pushy salesperson who has not given you an opportunity to consider a financial product or service carefully before getting you to sign an agreement. You may have been missold a product or service or may be experiencing difficulty in cancelling an agreement. Whatever your reason for complaining to the bank, your letter should include the following useful tips.
Tips on How to Write the Letter
Firstly, be knowledgeable. By demonstrating in your letter that you know your rights when it comes to a particular agreement you've made, the more likely the bank is going to take your complaint seriously.
Your letter should be written in a calm and polite tone. Nevertheless, it should be firm. You should be specific in terms of what you're complaining about and what you are seeking as compensation or as some other form of acceptable resolution.
Make sure you include any relevant dates and any reference numbers pertaining to your particular complaints and, where possible, make sure you send it to a relevant named person if you're able to obtain that information, as opposed to just the 'customer service department'.
Also include a timescale in your letter by which you want the bank to acknowledge your correspondence although be reasonable with this as banks will often have many complaints to deal with.
Example of a Letter of Complaint to a Bank
Dear Mr. Jones,

REF: PPI/0545674 JBH

I would like to make a complaint about the personal protection insurance policy – reference number above - which I was sold by your field sales representative Jason Abell recently when I took out an unsecured loan with your bank on 2nd April, 2008.

I felt I was rushed into agreeing to this policy being tacked onto my loan agreement and it was only later when I was able to read the small print in the agreement that I realised that, due to being self-employed, I would not be entitled to make any claim against the policy were I to become ill and have to take time off work. Therefore, as the policy would not cover me for payments on the loan if I was to become ill, I wish to cancel the policy under the terms of the 28 days cooling off period and to have the money paid towards it so far refunded to my account.Please acknowledge receipt of this complaint within 28 days and I look forward to your co-operation regarding this matter.

Yours sincerely,

Mr. John B. Hall
At this stage, you shouldn't let your complaining be threatening in any way. At least allow the bank to acknowledge that they have received your letter and to address how they intend to deal with your complaint. It's only if you get no joy that you should then send a second letter emphasising your rights under the terms and conditions of your agreement that you could also add into that second letter that if you weren't to receive the resolution you are seeking, that you would be looking to take matters further with the Financial Ombudsman, for example.
In other words, 'save your powder' for later and at least give the bank the opportunity to put matters right itself without you having to resort to the threat of taking further action. You can always do that later, if need be.
You might also like...
I need help with a letter to Barclays Bank , my husband and I had a joint account we split up And I had to get written permission from husband to take his name off so it would be a sole Account, 7 months later we tried again , un be known to me until a month ago ,after we split again I found out that Barclays had given my husband access to the once joint account without my permission , I know they've breached protocol and they know it to but now I have to write a letter of complaint , I also know they should compensate me , just not sure what to write.
Heat67
- 20-Aug-19 @ 6:50 PM
my draughter phone was stolen recent she had mobile banking and apple pay fraud was commit using the phone and the bank has refuse her claim on the basis thatthey were able to gain access on the phone how can we dispute this.
nickyy
- 12-Sep-18 @ 5:30 PM
@Mick. Sorry we do not have enough detail about this to give you good advice. You need to find out who now owns the loan, whether you actually took out payment protection etc. Citizen's Advice Bureau might be able to help you more.
LetterExpert
- 17-Dec-14 @ 10:51 AM
Hi there, I've taken a loan of £10.000 with Barclays about 20 years ago. I've even reclaim the PPI which have been pay last year with a letter of the bank telling me that they do not have any record of it. The loan has been sold to differents companies over the years and I still own more than £11.000. I've send them (Barclays) a letter to just cancelled the debt as they do nothave any record of it. The answer's no so I'm asking for youradvice. Thank you
Mick
- 16-Dec-14 @ 7:29 AM