Letter Requesting Account Closure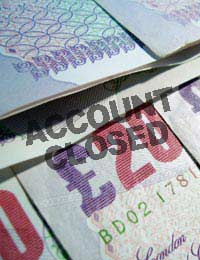 A letter requesting an account closure may be sent to a bank, credit card company, utility company (gas, electric, cable television, etc) or any other company at which you had previously opened an account. Even if you have previously communicated your wishes via telephone or in person, you may need to send something "in writing" before any action can be taken. A letter requesting an account closure is a business letter, and as such the vocabulary, tone and formatting should be formal.
Content of a Letter Requesting An Account Closure
A letter requesting an account closure should contain explicit instructions for a company to close your account. To this end you should also include the name on the account, the account number and the type of account. Should you be sending this letter on someone else's behalf you may need to include supporting documentation that you have the power to do this. You will also want to include instructions for what should happen to any balance left in the account following the closure. Sometimes accounts are closed because a consumer is unhappy with a service. If this is the case then you may be tempted to use this letter to air your grievances, but it's best if this is kept to a minimum so that the real purpose, the account closure, is not lost.
Format of a Letter Requesting An Account Closure
A letter requesting an account closure should be formally formatted as a business letter. This means that the name, position and postal details of both the letter writer and recipient should be included. The date and possibly a subject line should also be used. A formal salutation and closing should be employed, and any enclosures should be noted below the writer's signature and printed name. A clear font such as Times New Roman or Arial should be used and there should be no borders or other images included. Print such a letter onto clean white or cream paper and use a standard business envelope for delivery. Postal delivery the best choice for this type of letter.
Sample of a Letter Requesting An Account Closure
Ms. Muriel Morse
Postal Address
5 July, 2010
Mr. Mark Roberts
Personal Finance Advisor
Little Town Bank
Postal Address

Dear Mr. Roberts,
Further to our telephone conversation this afternoon I would like to confirm that I wish for my Super Special Saver savings account, number 123-45-678, be closed. This account is in my full name, Muriel Marie Morse.
I further wish for the outstanding balance of this account, £12,432.00 to be transferred to my current account, number 234 - 56-789, also in the name Muriel Marie Morse.
I will be confirming on Friday via my online banking facility that both the closure and the transfer have taken place. Should there be any problems with either action please let me know as soon as possible on [Telephone Number]. If I find that these actions have not occurred as directed I will be in touch with you directly.
Kind Regards,
______________
Muriel Morse
You might also like...
Account bank saya kenal report scam.
Calted
- 25-Nov-23 @ 11:36 AM