Letter Investigating Banking Irregularities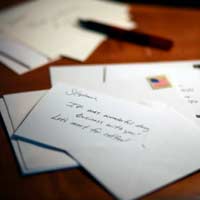 When you believe your bank account has been subject to irregularities it is in your best interest to write to your bank immediately asking for an investigation. Putting your request in writing formalises it, as well as gives both you and your bank a record of your communication. Should you ever need to initiate such an investigation, knowing what to include in your letter, how to address it and how to format it should help you obtain the best possible results.
Content of a Letter Investigating Banking Irregularities
If you find yourself needing to question irregularities appearing on your bank account statements it will be important to include as much information as possible on the items you are questioning. In your letter you'll want to mention:
Your name, account type and account number.
The specific line items on your statements which you believe are incorrect.
An explanation of why you believe the irregularities on your statement are incorrect.
An indication of what you believe would be correct instead, and why.
A request for an investigation into the incorrect line items on your statements.
A request for an explanation of how/why the irregularities occurred on your account.
Your gratitude to the recipient for looking in to the situation with your account.
Addressing a Letter Investigating Banking Irregularities
As with any business letter sent to an organisation, you'll probably have much better luck getting a response if you address it to a specific individual. If you don't already have the name of a contact at your bank, whether it is the branch manager or the employee who helped you open your account in the first place, be sure to call in and ask who can help you with matters related to your type of accounts. No matter what do not send a generic letter addressed to the bank itself or "To Whom It May Concern" as this allows the bank to claim that no one ever received your letter and you will have no recourse to target a specific individual as the person who should have read it.
Formatting a Letter Investigating Banking Irregularities
Any time you bank you are carrying out a business transaction between yourself and the institution. When you need to investigate such transactions you are extending that business relationship and therefore the documents that go along with it, including any letters, should be formatted formally. This means including both your name and mailing address and those of the letter recipient, as well as the date of writing and a formal salutations and closing. At the end of the letter a signature should be included above the writer's typed name. Postal delivery is the most appropriate option for a letter investigating banking irregularities.
Sample of a Letter Investigating Banking Irregularities
Mr. Arthur Accounts
[Mailing Address]
15 February, 2011
Mr. Bob Banker
Accounts Executive
First Rate Bank
[Mailing Address]
Dear Mr. Banker,
It has come to my attention that in the last three months my current account, number 0076549, which includes fee free banking for the first year, has debited my balance fees for ATM use as well as writing and receiving cheques. The total of these fees for the last three months comes to £86.50, which I believe should be reimbursed to my account immediately.
I have enclosed copies of my last three bank statements with the erroneous charges highlighted for your review. I have also enclosed a copy of my account terms and conditions which specifically address fee free banking for the first year of the account's life. As my account only began in September, 2010 I am still well within this first year.
I would appreciate it if you could review these charges, reimburse my account as well as explain to me how and why fees were charged on my account in the first place. As I have only been banking with your organisation for a few months I can not say I am overly impressed with such irregularities. While I of course understand that mistakes happen, this has now been several months of mistakes which your bank has not yet caught or acknowledged. I hope this situation will be resolved quickly and to everyone's satisfaction.
Should you need to contact me I can always be reached at the address above, by email to [Email Address] or on [Telephone Number] between the hours of 9am and 5pm Monday through Saturday.
Thank you,

__________________
Arthur Accounts
You might also like...
Can you show me a request letter for bank statement to law enforcement agency for irregularities
Lolly
- 9-Apr-23 @ 5:41 AM
could you please show me a sample letter of request for installment of irregularity service
Jham
- 25-Nov-19 @ 3:27 AM