Letter Explaining Reasons for Bankruptcy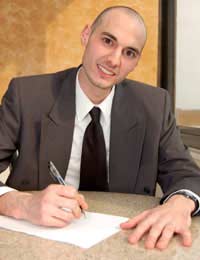 Somebody who has been forced into bankruptcy may be forgiven for thinking that it's the end of the world but with more people than ever facing debt problems these days, it's inevitable that this will also be reflected in the increased number of bankruptcies. However, whilst this will inevitably be poorly reflected upon your credit history at the time, at some stage when you have been discharged from bankruptcy, you may wish to re-apply for a mortgage or some other form of loan or credit and, these days, there are many companies who are willing to lend money to those who have had a bankruptcy order placed upon them in the past. The good news is that a well constructed letter explaining the reasons for the bankruptcy is always liable to go in your favour.
How to Write it
When financial lenders access your credit report in order to ascertain your suitability as a borrower, they are simply only able to access the bare facts. Of course, if you've applied for any kind of loan or credit and you have a bankruptcy order on your credit history, the company will want to know why. However, what's important to remember is that all the lender is looking for is for you to be able to explain your bankruptcy, why it occurred and, most importantly, they're looking to establish that there were mitigating circumstances which led up the bankruptcy and to feel confident in you as a borrower that it couldn't happen again.
Here is an example of the type of letter you could use to explain the reasons for your bankruptcy.
Dear Sir or Madam,
In response to your letter regarding the reasons for my bankruptcy from which I was discharged 18 months ago, this is in regard to my recent application for a loan with your company.
Back in 2002, I suddenly found myself out of a job when the company for whom I'd been working for as a Finance Manager for 10 years, were forced to go into liquidation. All of the workforce, including myself, were given no notice that this event was about to happen and as a result of finding myself suddenly out of work and aged 42, I found it difficult to find any alternative employment which was able to offer the same high level of income I had, up until that point, been accustomed to. With a mortgage, personal loan and other financial commitments to fulfil, I was thrust into a situation whereby I was unable to meet my considerable financial obligations which escalated over the subsequent months until the point where one of my creditors issued bankruptcy proceedings against me.
Since being discharged from bankruptcy, I have obtained another senior position within the financial sector, earning a good income with a company whose reputation is solid and whose prospects appear to be one of the most stable in the financial sector. Therefore, due to the mitigating circumstances surrounding my bankruptcy and the fact that I had no control over that alongside the fact that, up until that point, I had held down a well-paid, steady job for 10 years with the same company and have now obtained another secure position, I hope that this will explain the reasons for my bankruptcy and that you will be prepared to look favourably upon my application for a loan.
I have also included supporting documents of evidence to back up the explanation contained within this letter and if you require any further clarification or information, please do not hesitate to get in touch.
Yours faithfully,
Mr Brian Swann
You might also like...
I got a investment loan to bUyaproperty I worked out.once rented will cost me extra 40 a fortnight when rented home was rented straight away .To cut to the chase my bank had two profiles of me and double dipped charGing me interest twice for 2 and half years this forced me to sell property for a loss and put me under extreme financial cisl hard ship , Need advice Lefty
Lefty
- 20-Dec-19 @ 3:16 AM
I need someone who can write a letter for Chapter 7 and 13 filing for mortgage.
Glenn Hudson
- 11-Jul-19 @ 10:47 PM
I was sued for a car accident in 2005 and had medical bills along with a couple of credit card bills then my husband was in a car accident in 2008 then we got behind on our recent credit card bills that we were current on and had to eventually file for bankruptcy just to start all over. Now I'm having the hardest time trying to write a letter of explanation to the underwriter for a loan for our first home for our family. Now that I've matured more I've learned more and have been managing my credit and bills more wisely than before. If there's anyone out here that can possibly help us out, please do so and reply back to this respond.
Anonymous
- 17-Dec-12 @ 3:28 AM
This letter is great but my story is different.I went into bankruptcy for the 2nd time because I budgeted everything wrong.I purchased a car that I was told I could refinance within 6 months.Then when the 6 month came up, I was told to wait 1 whole year.I explained to the lender I am unable to make payments since I had other bills and obligations.I was told my the dealer that my payments will go down.It was impossible for me to make payments on a $22,404 car at 24.99% rate.He stated there isn't anything he could do.
jumpingjazzy35
- 29-Mar-12 @ 3:48 PM