Giving Notice on a Letting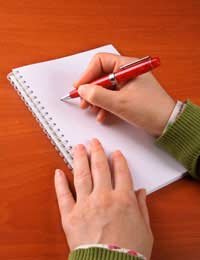 The period of notice you must give if you decide to leave rented accommodation will vary between councils or housing associations and may also vary if you are renting privately so it's important to refer to your tenancy agreement before you decide to send your written confirmation to let the owner of the property know you intend to leave to ensure that you are complying with your agreement in terms of the length of notice you have to give.
How to Write the Letter
A written letter is mandatory in this situation. A verbal or e-mailed confirmation will not be enough. Your letter should include the date the letter is written the address of the property you are leaving, the date you want the tenancy agreement to end (which will also be the date you are leaving the property) and your new address. Your new address is vitally important as it enables the property owner to forward on to you any mail that's delivered in your name once you have vacated the property and to allow them to contact you if you incur any bills in the address' name once you have vacated it. It also allows them to send any refunds of payment to you by cheque if they owe you any money, e.g. a refundable bond against damage or breakages you may have been asked to pay at the start of your tenancy.
You do not need to state your reasons for giving notice nor is it necessary to thank the property owner. However, if you have got to know the landlord well over the period you've been renting the house (more common if you are renting privately), you may wish to express your thanks and your reasons for leaving if you feel it's appropriate to do so.
Also, if you're unsure, you should ask if there are any monies owed to you as you may be partially through a period you have already paid for on the date you intend to leave, and, if you're a private tenant, you may have had to pay a bond when you took up the residency so, if you've not damaged anything, you will likely be entitled to a refund of that too.
You might also like...
As a landlord who has rented shared flats, usually to a group of friends who are students or young professionals, this is the first time I have encountered this situation and would like to pick people's brains on how to find the best solution. 4 share a flat.It turns out that one of the 4 has gradually become more and more inconsiderate towards the other tenants where it had started in a minor joking way, but has now developed into shouting at them and racial abuse.It seems to have also involved his not respecting the others' privacy, and his guests misbehaving. One of the other tenants had raised this behaviour with him, but was laughed at, and trolled. It is now at the stage where the others no longer wish to share the flat with him. The joint tenancy agreement has specific clauses re consideration for other tenants, and non harassment. What would you advise as the best next steps?
Biff
- 15-Oct-17 @ 5:43 PM