Letter to a Parent from a Teacher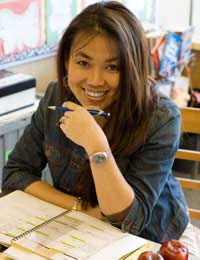 Although personalised letters from parents to teachers are more common than vice-versa usually to do with explaining a child's absence from school, there are occasions when a teacher also has to write a personalised letter to a parent. It can be for many reasons, both good and bad. Reasons can include asking a parent if their child has permission to go out on a field trip or a trip involving an overnight stay or extended stay. It could be that the teacher wishes to inform the parent of a child's continual absence or misbehaviour. Perhaps the pupil deserves praise and recognition of some kind and the teacher might wish to write to the parent to highlight the child's achievement. There could be a whole host of reasons.
How to Write a Letter to a Parent
Because of the various reasons a teacher might wish to write to a parent, there is no set 'tone' to the letter but the letter should be written formally and in a tone which reflects the nature of the letter.
It should set out the reason for the letter at the beginning and can elaborate on that in the subsequent paragraph. If the reason for the letter stipulates some action that might be taken by the teacher or school, this information should come next. Finally, if the letter requests some kind of written or verbal response from the parent, that should be included in the last paragraph.
Here is an example of a letter from a teacher to a parent whose child's work has suddenly fallen below their usual standard.
Dear Mr. and Mrs. Collins,

Recently I have become concerned with Justin's performance at school, both his classroom work and homework over the past 4 weeks have shown a marked decline in the high standard of work he usually produces. I wanted to ask if you could shed any light on the possible reasons for this?I do appreciate the fact that Justin was off school for 2 weeks back in February due to laryngitis. However, even making allowances for that, his work was of its usual high standard as soon as he returned following his illness and it only started to decline about a month after his return.

I have spoken to Justin directly and in private about this matter. However, he doesn't seem to be able to come up with a justifiable reason as to why he's suddenly slipped back and simply puts it down to the increase in both the volume of homework and the difficulty of the work in Year 11 over what he was able to achieve in Year 10.

Whilst this might be a very valid explanation, I believe I have come to know Justin very well over the past 3 years I've been teaching him, both with regards to his academic ability and as a person and I have a feeling that there might well be other reasons as to his schoolwork's decline which I'm yet to establish.

I would not like to see Justin suffering in any way. Therefore, I would be grateful if you could call me to arrange a suitable day and time we can meet to discuss the matter further.

I look forward to hearing from you.

Yours sincerely,

Mr. Terry Cooper

11D Form Teacher
You might also like...