Love Letter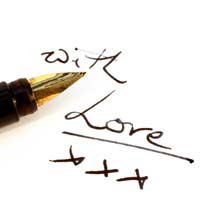 I'm sure that most of us have experienced the feelings of falling in love (or thinking that we're falling in love).
Whilst most people who have been together for a long time would probably suggest that 'true' love is a lot deeper and happens gradually over a long period of time, the feelings, emotions and thoughts you tend to have when you've recently become attracted to another person and, especially when the feelings are reciprocated, can send us all weak at the knees and often cause us to behave quite irrationally.
Private Communication
Our conversation can be affected as we often invent 'pet names' and other terms of endearment that seemingly bring us closer to the person we love and which remain 'our' way of communicating to each other which is unique and only the two people involved are privy to communicating in that way.
All in all, it's a heady time, often referred to as 'the honeymoon period' and, although when relationships do work out and things start to settle down, the 'love' we have for another person becomes more deep and meaningful, the notion of the love letter, as we usually perceive it, is more common in those very early days when our obsessions with each other often lead us to wanting to communicate with each other in any way we can and as often as we can.
How to Write a Love Letter
Therefore, it's not surprising that love letters can evolve into a whole life of their own and they can be written in vast quantities, especially in the early stages of a relationship.
On a practical level, putting your deepest and most intimate thoughts down on paper and laying your soul bare to the one you love represents a tremendous 'opening up' of ourselves to others and putting that all down in a letter can help to lay some solid foundations upon which to build the relationship and make it even stronger.
Love letters can also come in a variety of tones and styles. They can be extremely warm, gentle and caring at one end of the scale and others might be extremely erotic and sexually charged at the other with lots of other variations in between. Whilst they are all different, the one thing they all have in common is the aim of bringing two people who are passionately in love even closer together.
They will often be filled with superlatives like 'the best' or 'the greatest' and will often contain promises and dreams that, at the time seem realistic but in reality are virtually impossible to fulfil.
Here is a typical example of a less 'steamy' but loving and considerate letter
How to write it...
Dear Carly,

I just can't stop thinking about you.

From the day I first cast my eyes upon you on that train platform, I haven't been able to concentrate on work or anything else. In my mind, I'm just constantly picturing your beautiful smiling face or I can hear your joyous laughter and I've just become a quivering wreck and my life seems to have been put on hold as all I can think about is you and the next time I'll get to hold you in my arms once again.

I want to thank you so much for letting me into your life and I promise that I will never hurt you, never let you down and will do all that is humanly possible to make sure that you'll feel truly loved, truly safe and will want this new love we've both found to last for ever and grow even stronger.

Thank you so much for letting me into your world and I'll make sure that you'll want to keep me in it for ever.

With all my love, always,

Steve

x
You might also like...