Letter Telling People of a Divorce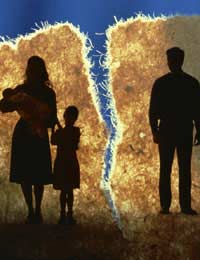 Announcing a divorce to every relative, friend and colleague can be very time consuming, so sending out one letter instead can save you a lot of time and energy. A letter telling people of a divorce might include details of the finalisation of the divorce, new contact details for the ex-spouses, if the ex-wife will be changing her name in any way, details of custody arrangements and/or plans for the future for either spouse.
Such a letter may seem slightly formal for some friends and relatives, so leaving a space to handwrite a short note of thanks for support or to add other information could be a good idea as well.
Finalisation of Divorce
There is no need to include great detail about the divorce process in a letter telling people of a divorce, but some reference to when the divorce became final is usually appropriate. Simply stating the month in which the divorce became final is fine, though some people may prefer to quote the exact date. Usually this information can be contained in one short sentence.
Contact Details
Depending upon the ex-spouses' preference, new contact details for either both of them or just the letter writer can be contained in a letter telling people of a divorce. Even if these details are not changing, they can be re-confirmed so that everyone knows how to get in touch as needed. Postal address, home phone, mobile phone and email addresses are all appropriate to include as contact details.
Name Changes
Whether or not the ex-wife's name will change due to divorce may also be discussed in a letter telling people of a divorce. If the ex-wife will be returning to her maiden name then this may be mentioned, or it may be confirmed that her name is not changing (she is keeping her married name or she never changed her name upon marriage). A clear statement of how others should address her in the future will avoid confusion later.
Custody Arrangements
There is no need to detail the exact custody arrangements reached in a letter telling people of a divorce, but some indication of custody details is usually appropriate in such a letter. Simply stating if there is sole or joint custody in effect may be enough for some families while others may choose to include further details of joint custody. Letter writers should simply include however much information they feel comfortable sharing at the time.
Plans for the Future
If plans for the future have been made and the letter writer is excited to share them then it is appropriate to refer to these plans in a letter telling people of a divorce. However, plans for the ex-spouse's future should not be included unless the ex-spouse explicitly agrees to having them shared. Positive plans for the future are the only types appropriate for inclusion in such a letter.
Handwritten Note
It may be appropriate to include a handwritten note with a letter telling people of a divorce. This is a space to thank others for their support throughout the process, to include details that only that individual needs to know or to otherwise address a specific individual personally. If a handwritten note is included it should remain brief, probably between one and three sentences.
Sample of a Letter Telling People of a Divorce
23 March, 2009
Dear Friends,
It is with pleasure that I write to tell you that my divorce from [Ex-Spouse's Name] became final on 1 March, 2009.
I have been awarded sole custody of the children and will be reverting to my maiden name of Mary Sykes in upcoming weeks. Roger, Wanda and I will be moving to a new home as of next week and in the future we can be contacted at [New Mailing Address]. My mobile will remain the same at [Mobile Phone Number] though our landline will change to [Landline Telephone Number]. I can still be contacted via email at [Email Address].
I would like to thank you all for your support during this divorce, and to let you know that when we arrive in [New Town] I will be [Future Plans]. I could not have done all of this without you!
Love,
Mary Sykes
You might also like...