Letter Notifying of a Name Change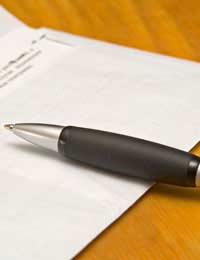 A letter notifying of a name change may either be personal, to notify family, friends and colleagues, or formal, to notify organisations. Either way, details of the person's old name and new name should be included.
Personal letters may also include information on the cause of the name change, while formal letters will likely provide details of accounts or other items that this name change will affect. If there is a change of address to accompany the change of name then these details should be included as well.
Content of a Personal Letter Notifying of a Name Change
Most often a name change is precipitated by some sort of life event, such as a marriage, divorce or adoption. Details of the event that caused the name change are entirely appropriate to include in a personal letter notifying of the name change. However, there is no need for these details to be extensive.
It is perfectly fine to simply write that due to the event, the name will be changed from one name to another. How much detail is included is up to the letter writer and how comfortable (s)he feels in sharing this information. Any new contact information to go along with the name change should be given.
Content of a Formal Letter Notifying of a Name Change
A formal letter notifying of a name change should include details of why the recipient needs to know about this change. For example, if it is because the name on an account needs to be changed then the account should be referenced, the name that is currently on the account should be stated and the new name that should appear on the account should be given.
It may be that proof of the name change is required, so including details on how the recipient can get in touch should (s)he require further information is also appropriate. It is not necessary to give an explanation of the name change in this type of letter but if there has been a change of address then this should be included as well.
Sample of a Personal Letter Notifying of a Name Change
07 February, 2009
Dear Mark,
I am delighted to announce that, following my marriage to Brian, I am changing my name to Laura Wells.
I also have a new address to go along with my new name. As of 1 March, I can be contacted at [New Address]. My email address will also be changing to [New Email Address], though my mobile number will be staying the same.
Thank you again for all of your well wishes.
Love,
Laura
Sample of a Formal Letter Notifying of a Name Change
Ms. Laura Wells
Address
07 March 2009
Official Bank Name
Branch Address

Re: Official Notice of Name Change
To Whom It May Concern,
Please be advised that on 02 February, 2009 my name was legally changed from Laura Jones to Laura Wells. My new name should be reflected on my current account, [Account Number], previously held in the name of Laura Marie Jones, as well as on my savings account, [Account Number].
My address also changed as of 01 March, 2009. Previously I was living at [Address One] but my accounts should reflect that I have moved to [Address Two].
If you have further questions, please contact me at [Telephone Number] or [Email Address].
Sincerely,
_______________
Laura Wells

Close an Account?
In some circumstances you may want to close an account and start a new joint one after getting married. Brush up on
how to write a letter to close an account, here
.
You might also like...
How can I prove my real date of birth as in my government issued ID? My university made a mistake in my date of birth but my passport and national ID have the right DOB 12th December,1939 but my University transcript shows 12th December,1929
Cool
- 19-Jul-23 @ 1:02 AM
I want to change my old name to the new name andi want to upgrade my account from lower withdrawal limit to high withdrawal limit please enlighten me on how to do it.
Segun
- 26-Jan-21 @ 4:33 PM
I need a letter to show that I've changed my surname from Mnguni to Legodi because everywhere I go they want the letter I can't even open a bank account
Augustine
- 10-Oct-20 @ 12:33 AM
Change my name Peter Christian from anambra state Nigeria and my sister and I have
Astonishing
- 6-Oct-20 @ 12:30 PM
I want a letter to write to other age grades that my age grade has changed their name
Cole
- 1-Apr-20 @ 10:39 AM
I want to change my name from Olatokunbo to Osinusi due to separation between us so as to notify my pension and cooperative organisation
Nil
- 15-Apr-19 @ 3:05 PM
i send money thru pawnshop but the name of the reciever was wrong please help me to write a letter
jackie
- 14-Dec-17 @ 4:42 PM
I changed my name via a government gazzet by a self decleration in 1996.Most of the places I wrote a letter to that effect but did not keep the corrospondence.In some places I forgot to write.Now one of the person has put a court case against me,that iI am impersonating and using 2 names.what is the legal position about this?I have stopped using my old name a long back.
Hi,I have telephone line name under company want change to personal number. I need a letter for telephone company.Thanks
May
- 29-May-12 @ 5:00 AM
My husband passed away and I need to change his name to mine on my Peoples Gas acct.Ev
Ev
- 11-Nov-11 @ 11:35 PM