Replying to a Letter of Condolence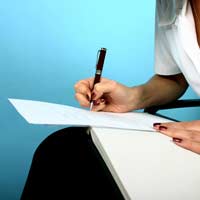 It is not generally expected that you should write a response to a letter of condolence. People are only too aware that you've probably been through a traumatic time and that you may have received many such letters and simply haven't got the time, or, indeed, the emotional strength to respond to everyone who's written to you individually.
Friends and family simply wish to express their sorrow at your loss and they hope that their letter might give you support and strength during a difficult period for you. However, they don't necessarily expect a written response in return, although if you do have the time, it's a nice thing to do.
How to Respond to a Letter of Condolence
Many people often send a simple thank you card to those who have sent letters of condolence to or they might even take out an advertisement in their local paper to thank people that way.
However, if you are the kind of person who prefers to take some time out to express your gratitude personally to each and every person who sends you a condolence letter, it should contain things like your gratitude at their support and how their love and support has helped you come to terms with your loss.
Here is an example of a how to respond to a letter of condoloence.
Dear Ethel,
Thank you so much for your letter of condolence.
I got so much comfort from your kind words and thoughts and John would have been very humbled and proud at the nice things you said about him.
Although John's passing has been a difficult time for us all, it is a blessing that he's no longer in pain or suffering as that wasn't the 'John' that we all knew and loved so, in that respect, we are all relieved that he is now resting in peace and is free from pain.
I thought the funeral was beautiful and both me and the family took great strength from the support of all those who attended. It truly was a magnificent turnout. It was good to see you there and we were able to reminisce with many people whom we hadn't seen in ages and there were plenty of memories to share and much laughter amidst all the tears, as you know only too well, which I'm sure is exactly what John would have wanted.
I am slowly coming to terms with John's passing in the knowledge that he is finally at peace and I've started to smile and laugh again, thanks to the love and kindness shown by all of our family and friends, including yourself, who have all been very supportive.
Thank you once again for coming to the funeral, for the beautiful letter and for your friendship. It means so much to me and I look forward to seeing you in happier circumstances very soon.
Yours truly,
Joan
You might also like...
The proper way to reply to a
condolence
letter is to thank the person first by name and personally recognize the sender. You can say, "During the difficult time, your letter was greatly appreciated." It depends on you on how you express your personal expression especially for someone you're close to. You can also include any personal stories and how you're doing right now. Close the letter by saying thank you followed by your name.
Cathy
- 6-Feb-13 @ 1:22 AM