Sending Congratulations by Letter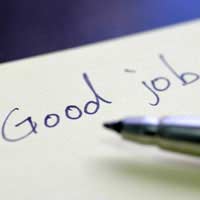 A letter of congratulations can be very appropriate for a number of reasons and the person receiving it will appreciate the sentiments behind it. For the most part the letter will vindicate the effort that the recipient has put in to achieve something of importance to them. It might be a letter to congratulate them on a promotion or the new job they've recently been offered. It could be that they have announced an impending marriage or engagement or it may be for something entirely different. The one common denominator to this type of letter, however, is that the reason for writing it always relates to good news which means that it is one of the more pleasurable letters both to write and to receive.
How to Write the Letter
The key to writing such a letter lies in its timing. It should be written and sent as soon as the 'good news' has been announced or the event has taken place, whichever is the most appropriate. You should state the specific reason why you have decided to write the letter in the first paragraph and express your approval. The letter should be upbeat and positive without going too 'overboard' as it could then sound somewhat condescending and 'over the top'.
It should be a fairly brief letter and can be written either formally or informally, depending on the specific nature of your relationship with the recipient.
Here is an example of a congratulations letter from a manager to an employee who has just been offered a promotion within the same company.
Dear Alison,

I would like to offer my congratulations after hearing that you have been offered the position of Branch Manager at the company's Salisbury office, following your recent interview.

Since you started work here, back in 2005, I knew that you were determined to get on within the company and that you had the necessary skills and personal qualities which would allow you to progress further and it was a pleasure to help you work towards that goal.

You have always been a valuable member of my team and I have truly appreciated the unstinting service and level of support which you have given me, especially when you have been only too willing to cover my role when I've been needed to visit other branches around the country from time to time. Your efforts, during these times, made it so much easier for me to come back to the office, knowing exactly where we were all up to, whenever I was away.

On behalf of all of the team, I would like to wish you all the very best in your new position. I'm certain you will thrive in your new environment and that you'll relish all the challenges that will come your way.

It has been a pleasure to have you as a member of the team for the past 18 months. I will miss working with you and if I can be of any help to you in the future, please don't hesitate to get in touch.

With my very best wishes,

Gordon
You might also like...