Requesting Feedback After Rejection by Letter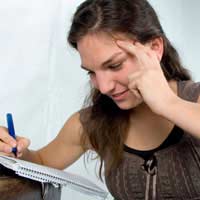 If you have set your heart on a particular job vacancy and have been through the entire process of filling out an application form then attending an interview and maybe even an assessment centre only to be told that the job has been offered to somebody else, it can often seem very demoralising. You'll no doubt have put a lot of time and effort into the procedure and, perhaps, you might have even started to think how great your new job is going to be when, suddenly, you hear the unwelcoming 'thud' of the rejection letter on your doormat. A part of you might feel resentment that you didn't get the job and some people might even feel personally slighted.
How to Write the Letter
It's all about your attitude and if you're clever about it and adopt a philosophical approach, then you might find that the door you thought was slammed firmly shut might just offer a chink of light after all.
Firstly, the thing to remember is that a job rejection letter from a company is often not usually a 'rejection' in the true sense of the word at all. Usually, many of the applicants for a particular vacancy will be ideally suited to carry out the particular duties of a given job and the problem is simply that the employer has to choose just one person to offer the job to from, perhaps, several suitable candidates who have all been interviewed. Because of the volume of applicants, quite often it's simply not possible to tell everybody who didn't get offered the position the reasons why they didn't and companies tend to just send out the standard response usually telling the applicant how well they performed at interview and that it was a difficult decision but that they had decided to offer the job to someone else.
This impersonal and standardised tone of letter, though polite enough, actually offers a great opportunity to an applicant who has not been offered the job.
Showing Your Positive Attitude
Remember, if you've done well at the interview, that you're still going to be fresh in everyone's minds on the interview panel. Also, what if the person they offered the job to doesn't like the job after all, or the company decide they've made the wrong decision? Surely, they'd not want to go through the whole process of recruitment again. That's why it often makes sense to write a letter to a company requesting feedback from your interview. Even though you'll be writing to ask for some advice on how you might improve your interviewing technique for next time or, perhaps, to find out what you lacked which meant that you weren't offered the job, you are subliminally and cleverly taking certain action which is far more important.
Firstly, you are keeping the lines of communication open with the company. You are also showing your appreciation for them considering you in the first place and you're demonstrating a commitment to your own self-improvement.
Therefore, because of your own initiative, they will often send you some feedback and, what's more, they may end up keeping your details on file and might even contact you when another suitable vacancy becomes available.
Here's an example of what you might include in a letter Requesting Feedback After Rejection by Letter.
Dear Mr. Tomkins,

Thank you for your letter dated January 3, with regard to the outcome of my recent interview.

Although I am disappointed not to be offered the job, I do appreciate that the calibre of the applicants was extremely high and I am aware of the difficulties you faced in choosing a suitable candidate for the position.

As I am extremely keen to establish a foothold in graphic design following my degree success, I am writing to you to ask if you felt there were any weaknesses in my application which I might be able to work on to improve my chances of getting a job next time I apply to a company. Any advice you could give me would be greatly appreciated.

As mentioned in your letter to me, I would be very happy for you to keep my details on file should another similar vacancy arise in future as I believe I would have much to offer the company and, having met most of the staff, I know I would enjoy working there.

Meanwhile, I would like to thank you once again for giving me the opportunity to compete for the vacancy and, if you can spare the time to offer some constructive feedback, I would very much like to hear from you.

Yours sincerely,

Trudy Grammar
You might also like...