Accepting a Job Offer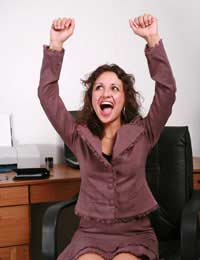 Being offered a job which you have applied for is one of life's more pleasurable experiences. In most cases you'll receive notification of the offer in writing and you would be expected to respond to it formally in writing and as soon as possible after you receive the offer.
If you are accepting the offer, there are certain things you should include in your response and these will depend on what the offer letter itself included.
How to Write it
Firstly, you should express your gratitude for being offered the job and also refer to the fact that you are aware of the time and date upon which you are expected to commence your new job.
If the offer letter does not include the exact department or location, and/or you're not aware of the name of the person to whom you will be reporting, you should also ask for that information in your acceptance response. Likewise, if the offer letter doesn't come with your contract of employment, you should ask your new employer to send you a copy or ask them what the procedure is for obtaining it.
You should also look carefully at who signs the offer letter and ensure that your acceptance letter is sent back to that person themselves. For example, you may have been for an interview with a specific member of staff but your offer letter may have come from the head of personnel. Always return your letter of acceptance to the person who signs the offer letter.
You might also like...