Thank Somebody for Attending your Event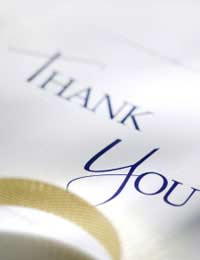 An event of any description which you've planned is only going to be successful if it has been well attended by the people you've invited to come. It could be a birthday party you've arranged for a child or it may well be a fund raising event to which you've invited a guest speaker.
Whatever kind of event you've planned, it's considered polite to send a thank you letter to those who have attended. These days, it's not generally expected to thank everybody who came for all occasions - after all, you may have invited a few hundred guests to a birthday gathering.
These days, it would be a little impractical to thank everybody much of the time and it isn't strictly considered necessary to thank everybody you've invited. However, in situations where you've, perhaps, received gifts and presents as a result of somebody's attendance or where, perhaps, you've invited a guest speaker to attend, say, at a fund raiser, a thank you letter would still be appropriate.
When to Write the Letter
As the event organiser, you should try to send out any thank you letters within a few days after the event has taken place. Some guests, especially important ones, may have many functions to attend so you want to ensure that, as the event organiser, they know that you've appreciated them coming. In doing this, it helps to cement your relationship with the recipient and acknowledges that you've appreciated their time and effort. And, depending upon the circumstances, it may even be appropriate to use your own handwriting instead of typing the letter.
How to Write the Letter
Here is a typical example of a letter you might write to thank somebody for attending an event. You could tailor this to suit your own circumstances.
Dear Mr. Smith,

I want to thank you for attending the harvest festival service last weekend and for your kind donation to the church.

We all thought that the speech you gave was very moving and many parishioners had no idea about your connection to the church as a young boy so it was very interesting to hear you tell us about how the church used to look before the war and to listen to your account of the bombing raids.

As you're well aware, we have struggled to raise sufficient funds to put towards the new roof the church needs so your kind donation will help us get a lot closer to our target of raising £3,000 by Christmas so that the restoration work can begin early in the New Year.

So, thank you once again and we look forward to you visiting us again next Spring by which time the work should have been completed and you'll be able to see for yourself the different changes we have been able to make as a result of your own and other people's kind donations.

Best wishes to you and your family and we hope to see you again next Spring. I will write again closer to the time with details of the event we are planning then in order to celebrate the new roof.

Yours sincerely,

Reverend Tom Green
You might also like...
I'd disagree that it's impossible to thank invitees to an event. It's not necessary for a party, I agree with that, but where it's something public and people have given their time as speakers, for instance, then those speakers, as well as volunteers, should each receive a letter of thanks, especially where no payment has changed hands. It's the very least you can offer as a gesture of appreciation, and without it you're unlikely to have them come a second time.
Caroline
- 4-Jul-12 @ 7:54 AM