Inviting Somebody to Speak or Perform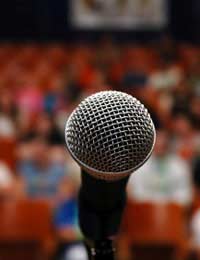 There may be occasions when you wish to have somebody to speak or to perform at your event. Perhaps the speaker will be a singer, a band, a well known sports personality or a comedian, or maybe you want to get somebody to give a speech or to lend gravitas to your particular event such as your local MP or Lord Mayor as a speaker, for example. It's important to write a letter of invitation in such circumstances. Not only is it polite, your letter will also give a good indication as to the nature of the event itself and why you've invited this particular person or people to act as a speaker. That way, the recipient can determine whether or not they'd agree to attend.
With a letter of this type, in addition to the invitation itself, the tone and invitation wording of the letter should be complimentary towards the person and should briefly outline why you've asked them, specifically, to come to the event to be the guest speaker. However, it's also important to remember that the person you've invited to come may be extremely busy, have other commitments that day or may simply be inundated with similar requests. Therefore, although you should be complimentary towards them in your letter, make sure you don't overdo your invitation wording with excessive flattery which may well put them off.
When to Write the Letter
This will very much depend on whom you're sending the letter to. If it's somebody that's extremely popular and tends to get a lot of similar requests to act as a speaker, the more advanced notice you should give. That doesn't mean they're any more likely to attend but the more notice you are able to give, the more chance they'll not have already booked other engagements on the date you would like them to attend. If this isn't an issue, then you should still try to send the invitation letter as soon as you can so that you're able to finalise your own event or, if they cannot attend, it will give you time to try to find a suitable alternative replacement speaker.
How to Write the Letter
An example of a letter inviting someone to speak or to perform at your event could be similar to the one below. Here, the example is a letter from a youth club leader who is hoping to get a professional footballer to give a talk. For the purposes of this example, let's call the footballer Jason West who plays for a fictitious top Premier League team called Drawbridge Rovers.
Dear Mr. West,
I am the youth club leader of Owlhead Youth Centre which is based just 5 miles from the Rovers' stadium.
I have contacted you as I would like to invite you to speak to our members (all boys and girls between the ages of 11 and 16), as we have recently introduced a brand new community initiative entitled "Safer Streets". Our community has suffered considerably over the past decade having had problems with teenage gangs going on the rampage. However this initiative, which was the brainchild of many of the boys and girls who attend the youth club, has seen a dramatic fall in the number of teenage related incidents in our community.
We still have a lot of work to do, however, as we aim to try to encourage many more youngsters to get involved in the sports and social elements of the Youth Club. It is our aim to offer facilities and activities to even more teenagers in order that they'll be able to see the benefits of becoming involved which in turn will create 'Safer Streets'.
Given that you originally came from a similar estate in the city and spent most of your childhood encountering similar issues, I am certain that you will see how such an exemplary role model such as yourself could have a positive effect on the youth around here if you could, perhaps, spare half an hour of your time to speak to our members and to tell them about your own experiences of growing up in the city.
Therefore, I hope you will accept this invitation and, if so, please could you arrange to contact me so that I can provide you with more details. I have also enclosed a pamphlet with details of our youth club and the 'Safer Streets' initiative.
Thank you in the hope that you can find time to help.
Yours sincerely,
Tim Ward (Youth Centre Leader)
You might also like...
I would like to write an apology letter for my social club members for a late payment. how do i draft the letter?
Mfundos
- 7-Jun-13 @ 8:12 AM
The more notice you can give anyone, the better. If you're wanting, say, a professional writer to address a group, or musicians to play, you'd do well to ask about a fee in your initial inquiry. After all, these people are professionals, and unless you're a charity, it's wrong to expect them to appear for free. If there's no money, explain the situation and at least offer to cover all relevant expenses, including food. anything less and you'll be lucky to even receive a reply.
Nina
- 27-Jun-12 @ 1:35 PM