Thank You for the Dinner Party Letter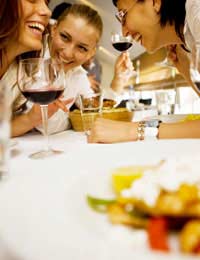 If you've ever hosted a dinner party, you'll appreciate exactly how much work and effort goes into making these social occasions a big success. They involve large outlays in terms of time, money and effort. On the night itself you may have presented the host with flowers, wine or chocolate and would have undoubtedly offered your thanks on leaving. Nevertheless, all these things are no substitute for a well-written thank you letter.
When to Write a Letter
If you are going to write a thank you letter, it needs to be written and sent within a few days of the dinner party. Any later than this and it loses its effect and appears to be an afterthought. If you leave it too late, it's almost better that you don't send a letter at all.
How to Get It Right
Modern etiquette has changed the way we say thank you. If the dinner was a very informal affair among close friends or family, you may be able to offer your thanks by alternative methods like email, for example. On most occasions, a handwritten thank you letter is still the best option.
Before you start writing your thank you letter, make sure your pen won't let you down halfway through. Choose suitable stationery which makes the recipient feel it has been specially selected for them. It's often nice to receive a card instead of plain paper. It just seems to imply that the writer has put a little more thought into their choice.
When you have finished your letter, hand deliver or post it- first class, immediately. Don't make the effort of putting pen to paper, only to let the finished note languish in the bottom of your bag for the following week.
Structuring Your Letter
Start the letter by addressing your host appropriately and making a note of the date and your address at the top of the page. If you know the hosts well, just the date will suffice.
Get straight to the point and thank the host for their hospitality. Make your thank you personal. Mention why you enjoyed the evening so much. Perhaps you'd like to recall the delicious food or another guest who was present at the dinner party. These details just help to reinforce the wonderful success and will hopefully make the host feel that all their effort and attention to detail paid off.
Close your letter with a paragraph that refers to the future or reinforces your message of thanks. The future reference could mention another dinner party to be organised by you at a later date or another social occasion where you may be able to meet up with your host again.
Make sure that the tone of your letter suits the occasion you attended. If the event was a formal black tie engagement, the tone will be suitably formal. If the event was organised by friends, you can adjust the content accordingly.
Sample Letter (Informal Dinner Party)
15th August 2011
Dear Tony and Linda,
Thank you so much for inviting us to your lovely dinner party this weekend. George and I had a wonderful time; what excellent hosts! The food was superb. Mushroom soup has always been a great favourite with me and it's always better when it's homemade. I really must ask you for the recipe so we can try it at home.
It was also lovely to meet Mary and John. What an interesting couple and such a coincidence that John and I went to the same school when we were youngsters. It was such a funny evening, those jokes that John told were hilarious.
We'll get in touch with you shortly so we can put a date in the diary for another dinner party. We're looking forward to seeing you at our house next, who knows maybe we'll treat you to our version of the mushroom soup.
Thank you once again and very best wishes,
Lucy and George.
Sample Letter (Formal Dinner Party)
Hillview House
Smithstown
Smithsville
SM1 1SM
Dear Frances and Matthew,
We were both thrilled to receive an invitation to the wonderful dinner party last night. It was an excellent opportunity for us to meet with the other members of the fundraising committee.
May we compliment you on the superb food, we have rarely eaten a tastier steak and the dessert was fabulous. The wine and the company could not have been better. It was a most memorable evening.
We look forward to seeing you at the next meeting of the committee.
Yours sincerely,
Charles and Caroline Cuthbert.
It takes very little effort to write a decent thank you letter and yet it's a gesture that will mean a great deal to your host.
You might also like...