Thanking Sponsors Following an Event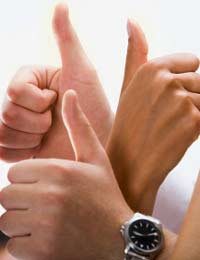 Once a fundraising event has finished it's nice to let the sponsors involved know what a great success it was. Writing them a letter of thanks is more than just a gesture, however, it is also a method for you to convey how well the event went and how much of an impact a given sponsor had on the proceedings. Be sure to provide hard facts about the event, try to include an anecdote or two related to the sponsorship and provide a suggestion of a future relationship if so desired. As a business letter, formally format a letter of thanks to a sponsor following an event.
Facts About the Event
Any letter of thanks to an event sponsor should state some impressive facts about the event. Even if the event was less successful than previous years, find an instance of success to focus on no matter how small. If straight numbers don't seem impressive see if the same amount expressed as a percentage would have more impact. Common facts to include about sponsored events include:
Attendance numbers, and if they were higher than previous years.
Overall monetary donations total.
Overall number of goods or services donated.
Overall number of organisations or individuals helped by the event.
Average monetary assistance given with proceeds from the event.
Number of individuals becoming members of an organisation following an event.
Number of individuals availing of goods or serviced offer by sponsor at the event.
Include Anecdotes
If possible, make your letter a little bit more personal by including anecdotes related to the sponsorship. If a long-time volunteer had something nice to say or a first-time recipient of assistance had a message of thanks to the sponsor by all means include these sentiments. If you are able to describe a little vignette, such as the look of excitement on a child's face upon receiving an award, then again do so in this type of letter. Just be sure to ask someone's permission before you quote them directly in a letter or any other type of literature.
Suggestion of a Future Relationship
At the close of your letter, make a short suggestion of a future relationship between your event and their organisation. Even something as simple as "We're already looking forward to next year's event and hope you are too!" is enough to hint that you'd like the relationship of sponsorship to continue. If this is the last year for an event, or you already know that you will not be soliciting sponsorship from a certain organisation in the future, it is better then to make this known at the end of your letter instead.
Formal Format
Sponsoring an event is usually a business relationship for the sponsors, so a letter of thanks to them should be written as a business letter and thus formally formatted. You will want to make sure your letter includes:
Your name, appropriate title related to the event and mailing address.
Your sponsor contact's name, title and mailing address.
The date of writing.
A formal salutation ("Dear,") and conclusion ("Sincerely,").
Your written signature.
Printing on clear paper or organisation letterhead in a readable font.
Postal delivery or email, if appropriate to the business relationship.
Sample of a Letter of Thanks to Sponsors
Ms. Elizabeth Event Coordinator
Silly Family Fun
Mailing Address
23 September, 2010
Ms. Sara Sponsor
Sponsoring Organisation
Mailing Address
Dear Sara,
It is with great pleasure that I write to tell you about what a success the Silly Family Fun Run 2010 turned out to be. We had record-breaking participation this year with 237 families registered prior to the Run, but another 77 turning up to register on the day. This resulted in us exceeding our goal of having 250 families participate this year!
I know that [Sponsoring Organisation]'s generous donation of prizes for each child involved in the Run was a huge draw for local families, and obviously it meant much more exposure for the [Chosen Issue] we were attempting to highlight. More than one child sprinted right through the finish line to the prize tent to collect their [Donated Prizes]! Each came with an age appropriate information pack about [Chosen Issue] as well, so I know we were able to get our message out with the help of your donation's.
Thank you again for [Sponsoring Organisation]'s continued involvement with the Silly Family Fun Run. We're already looking forward to next year's Run and hope that [Sponsoring Organisation] is too!
Sincerely,
________________
Elizabeth Event Coordinator
You might also like...