Cancel a Wedding by Letter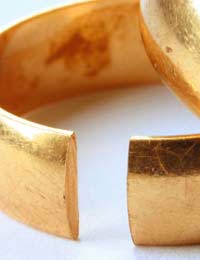 Although it's hoped that this will never happen to you, it may be necessary to call off your wedding. There may be many reasons why you decide to do this but your guests will still need to be informed. This is likely to be a very emotional time for you but writing a letter of this nature does not need to go into the detail of why you've decided to cancel. After all, you're likely to have discussed your reasons with a carefully selected handful of family and friends whom each of you will rely on for support.
Even so, in spite of it being a difficult time for you, it's important that you let everybody whom you've invited know that the wedding is no longer going to take place as some of your guests may have needed to take time off work and/ or, perhaps, they've arranged hotel accommodation so you'll need to apologise for any inconvenience which may have been caused.
When to Write the Letter
You should write this letter as soon as you've made a final decision not to go through with the wedding. Although writing a letter of this nature may be difficult to do, you can use the same letter to send out to everybody to whom you've sent wedding invitations. The letter doesn't need to be tailored differently for those who are only attending the evening celebrations and for those who had an official role to play at the wedding – the best man, maid of honour and bridesmaids, for example – you obviously need to speak to them in person once you've made the decision to cancel.
How to Write the Letter
Firstly, it should be decided which of you is going to take responsibility for writing the letter. One of you may decide to take on the responsibility yourself or you might decide that both of you send out individual letters.
Although it's not always possible, if you remain amicable with your (soon to be) ex- partner, you could send the letter from both of you. The important thing to remember is to remain civil. This is not the time or place to become acrimonious, despite how you are feeling. The important thing is to put your own thoughts and feelings to one side when it comes to letter writing and to think of your guests and focus more on apologising for any inconvenience the situation has caused.
Here is an example:
Dear Peter and Jean,
We regret to have to inform you that we have decided to cancel our forthcoming wedding which was due to take place on Saturday July 23.
We have both reached this decision amicably and have accepted that this is the right thing to do for personal reasons.
We appreciate that some guests will have already arranged to take time off work and that they may have also made travel and accommodation arrangements. Therefore, we both apologise if this has caused you any inconvenience. We have also received a number of wedding presents in advance and we will be returning these to the appropriate guests over the next couple of weeks.
Once again, we both apologise for any inconvenience this may have caused you.
Yours sincerely,
Kay Marshall and Alan Craven
You might also like...