Inviting Somebody into a Group or Club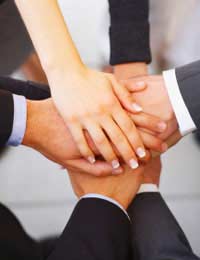 Most people who join some kind of group, club or association will often be sent a letter of invitation, inviting them to join the group firstly. Most clubs and groups are usually trying to increase their membership numbers. Therefore, it's important to include details about the history of the group or club, its achievements and its goals in addition to any other relevant information which you feel is necessary. For example, this might include details of forthcoming events.
In including all of the above, your letter should seek to establish an air of confidence and professionalism in the group as well as maintaining an air of pride about it.
The style of letter here may vary between clubs. If it's a small club or group, then you may wish to tailor your letter to the individual personally. An example might be where you've seen somebody perform in a music band and want them to join your group. In this case, you may want to explain what qualities you've seen in the person receiving the letter that makes you want to invite them into your own group.
However, for the most part, letters of this kind are usually standard invitation letters which are sent out to all of those to whom you're extending the invitation. They should be personally signed, however.
When to Write the Letter
Letters of this nature should be sent out whenever your club or group is running a recruitment drive or as soon as possible if you've been approached by somebody who has expressed an interest in joining your club or group or, perhaps, if you've gathered names for a mailing list at an open day event.
How to Write the Letter
Here is an example of a letter you could write if you were looking to invite somebody to join your club or group. For the purposes of this article, a tennis club has been used.
Dear Miss White,

Thank you for attending the open day at Forest Green Tennis Club last weekend. Everybody had a wonderful time and I hope you enjoyed it too.

We are now recruiting new members for the 2008-9 season and I would like to extend an invitation to you and to any members of your family who may wish to join the club.

The club is entering its 50th year and there have been many changes since the club was formed back in 1958. Its core foundations have remained solid, however, in that the club is there to serve its members and to provide them not only with the finest tennis playing facilities in the district but also to act as a professional host to many special social occasions we put on each year.

It is certainly true that whilst the sport of tennis – the coaching and the competition – is at the heart of what we provide our members with, we are also keen to ensure that the social element meets the expectations of all of our members. With that being an important focus, we always welcome our members' input and I have enclosed details of all of our social events in the enclosed brochure alongside details of our tennis programme for the 2008-9 season and our membership details and costs.

I do hope you will consider joining the club as a member and if you have any questions or require additional information, please do not hesitate to contact me. My contact details are below.

I look forward to welcoming you as a member.

Yours sincerely,

Mr. Alan Hollins

Club Secretary
You might also like...
Dear Aqlan, How are you? I hope you're fine. I would like to invite you to this club. it's cupcake club. In cupcake club you can make a cupcake. You can make a cake too. That what I love to join this club.In cupcake club, you can learn everything about cupcake and you can teach other about cupcake too.Best right? I hope you can join this club yours sincerely, Mr. Ammar Club Member
muhammad ammar bin m
- 21-Oct-19 @ 10:20 AM
Very interesting page .Easy to follow. love it;good luck. dave.
no nick name
- 9-Nov-12 @ 4:07 PM