Letter from a Parent Requesting School Meeting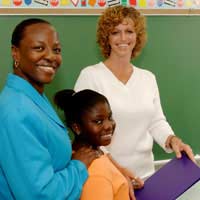 There may be any number of reasons that a parent would request a meeting at his or her child's school, but regardless of the reason, a formal letter is always an appropriate method of making such a request. Even if you have already verbally asked for such an appointment, following up with a formal letter not only allows you to reiterate your desire to meet and explain what you would like to discuss but allows you to start a paper trail of your requests should you need such proof in the future.
Content of a Letter from a Parent Requesting a School Meeting
A letter from a parent requesting a school meeting should clearly state the request as well as name the individuals with whom the parent would like to meet and the reason why the meeting is being requested. If you will be taking any actions in order to prepare for the meeting then these might be mentioned, and if you feel that there is anything the school authorities or teacher could do to better prepare then this might be mentioned as well, though it is best if these kinds of suggestions are phrased as such rather than as demands. You should also include any information on your schedule and preferred meeting times to help facilitate setting up a viable meeting as quickly as possible.
Format of a Letter from a Parent Requesting a School Meeting
Formal formatting is appropriate for a letter from a parent requesting a school meeting. Include your name and full mailing address as well as that of the recipient of the letter. Between these names and addresses include the date on which you are writing. Use "Dear," as the formal salutation and "Yours sincerely," as the formal closing before your signature. If you are enclosing any documents you can mention these in the body of the letter and/or note "Enclosures (4)" following your signature. If you are sending the same letter to more than one person then you could list other recipients on a line following your signature with the notation "cc:" (for "carbon copy"). Left align your letter and print it using a readable, professional font such as Times New Roman. Post or hand deliver your letter if possible.
Example of a Letter from a Parent Requesting a School Meeting
Ms. Samantha Johnson
Mailing Address
Date
Ms. Joan Heaton
School Name
Mailing Address

Dear Ms. Heaton,
Further to our conversation on 15 January, I would like to formally request a meeting with you and my son Kevin's form teacher Ms. Lucy Graham in order to discuss the behavioural problems you both feel that Kevin has begun to exhibit.
In preparation for such a meeting I will be collecting all correspondence I have received from the school regarding Kevin this year as well as speaking to our GP regarding Kevin's development and behaviour. I will also be speaking with Kevin about his behaviour. I would ask that you and Ms. Graham discuss this situation and bring all relevant documentation regarding Kevin to this meeting as well.
Due to my work schedule I will only be able to meet on Wednesdays or Thursdays, however I would be happy to meet at any time that might suit you both on either day. Our family contact details are on file at the school and I can be contacted by any of these addresses or telephone numbers.
I look forward to meeting with you soon.
Yours sincerely,
____________________
Samantha Johnson
cc: Ms. Lucy Graham
School Name
Mailing Address

You might also like...