Giving Notice About Withdrawing Your Child from School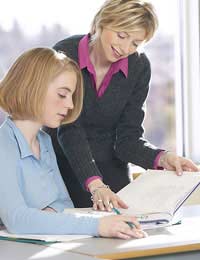 A pupil may withdraw permanently or temporarily from a given school. Regardless of the reason, and even if you have already verbally alerted a school to your situation, it is imperative that you give notice of a withdrawal to the relevant school authorities. A formal letter giving notice about withdrawing your child from school is an appropriate method of letting your child's school know of your plans.
Content of a Letter Giving Notice About Withdrawing Your Child From School
When you write a letter in order to give a school notice that your child will be withdrawing you should give details of your child (name, form, relevant teacher), why and when this withdrawal will occur, as well as if the withdrawal will be permanent or temporary. Reasons for a permanent withdrawal would be if you are moving house, changing schools in the area, if your child is coping with a terminal illness, if your child is undertaking exceptional employment and/or if your child is choosing to leave school once (s)he is of legal age. Reasons for a temporary withdrawal might include family travel, battling an illness or for religious reasons. Temporary withdrawals are often referred to as leaves of absence. In your letter, make clear whether you are requesting permission for a leave of absence or if you are asking that your child be deleted from the school's admissions register in accordance with current legislation such as The Education (Pupil Registration) (England) Regulations 2006.
Format of a Letter Giving Notice About Withdrawing Your Child From School
Giving notice about withdrawing your child from school is a formal matter, and as such your letter advising of this should be formatted as formal correspondence. Include your name and mailing address, the date on which you are writing, as well as the name and mailing address of a relevant school authority. Address the recipient with a formal salutation such as "Dear," and close your letter formally with "Yours sincerely," followed by your signature. Left align your letter and if at all possible print it using a readable font such as Times New Roman. If you are enclosing other documents relevant to your child's withdrawal from school either mention these documents in the body of your letter or simply state the number of enclosures underneath your signature by printing "Enclosures (number of enclosures)". Post or hand deliver a letter giving notice withdrawing your child from school. Email is not usually appropriate for such a communication.
Example of a Letter Giving Notice About Withdrawing Your Child From School
Mr. and Mrs. Peter Parents
Mailing Address
Date
Mr. Harold Headmaster
School Name
School Mailing Address
Dear Mr. Headmaster,
We are writing to inform you that our daughter, Marie, currently a pupil in form 3b with Ms. Teacher, will be withdrawing from [School Name] as of 1 March, 2010.
Our family is moving home and we will no longer be living in an area appropriate for Marie to attend [School Name]. We have included all relevant forms related to Marie withdrawing from [School Name].
We would ask that you please acknowledge receipt of this letter in writing and confirm that Marie's name will be deleted from the school's admissions register as of 1 March, 2010.
Yours sincerely,
----------------------
Peter and Patty Parents
Enclosures (3)
Read more advice like this
in our everyday category
.
You might also like...
Dear all, is there an obligation by law to tell the school my child has just left because of bullying which school the child is going next? Thanks
Brick
- 7-Sep-23 @ 2:34 PM
Hello I am writing today to try and figure out how to pull my son who I have shared custody of out of school. Against my ex's wishes.. she is refusing to see reason about the danger of covid 19.As i have copd and live in a house hold with 2 asthmatics.I'm being forced not to share parenting time with my son, out of fear of asymptomatic cases.With all the schools all over the world already being called super spreader locations,I honestly think my ex is trying to get me sick to solve her problems with me..
I have a large family network which had helped me to balance work/school/health. I have 3 children with differing learning challenges Dyspraxia, Dyslexia and ADHD. I also have an elderly parent who lives with me. During Pandemic and lockdowns there is not a week that goes by when at least 1 member of my family network shows covid19 symptoms. I have kept children away from school but they have been accessing school curriculum successfully. I am fully homeschooling my child with ADHD and the othet 2 have been using school online. However the school are now putting pressure in getting back into the classroom. How can I request temporary homeschooling without negatively impacting my daughter who is Year 11 at a Grammar school. Please advise.
Gram20
- 8-Oct-20 @ 1:02 AM
I want to withdraw my student from public school, they will be attending FLVS.How do I do this?Do I contact Pinellas County School or the actual high school? Thanks!
Lisa
- 20-Jul-20 @ 4:34 PM
My situation is slightly different from a family moving away from an area. I need to write a letter explaining my child (who is currently in year 10 and has started studying her GCSE's) is moving from the school to College to attend 14-16 vacational college. How would I write this? Even though the school has to make the transfer to thecollege AND will obviously be aware of said transfer I've been informed I'll still need to deregister her. Any help/suggestions (polite) will be appricated.
ems
- 14-Dec-19 @ 5:14 PM
I'm not attend anyone of class after admission how can writeapplication
Abhi
- 4-Dec-18 @ 5:51 AM
I need advise on how to write a letter that is considerate to my kids current school, since they will be leaving their current school
thabs
- 1-Oct-18 @ 12:26 PM
I need mail content for my son admission needs to be cancel due to we are moving another palce
Anand chhabbi
- 31-May-18 @ 10:38 AM
My childhood to heartsdown school in margate kent and from day one she had had a very bad time and she is now in year 8 and ive pulled her out but still the school keeps calling and texting me andi suffer with fits AND they are making me very ill. My poor girl was made by bully s to steal from me which Added up to around 700 pounds in cash and my brand new mobile phone and tablet and all the schoolsaid was please don't call the police ice had no support in any WAy and now my child pulls out her eye brows due to stress i am now so upset and reporting it to the local news paper's as on day one the head teacher sent home and upset over half of the whole school kid's and then the t.v channel plus news paper's sat outside for days reporting on this school
Sam Wood
- 30-Apr-18 @ 11:25 AM
I want a letter ,requesting my school officers to cancel my registration in class 11th.
Raj
- 23-Apr-18 @ 5:10 AM
Hi, I withdrew my son from school today but have changed my mind can I reverse this action? Thanks
Layla
- 30-Sep-17 @ 12:44 AM
I found this very helpful, as its quite difficult knowing what to say to a school that has been so good to our kids thanks