Giving a Reference by Letter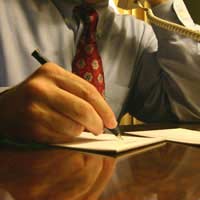 You might find yourself being asked to provide a written reference for somebody who is usually about to take on a new job. Perhaps you are a team leader a supervisor or you may hold another position which makes you ideally 'qualified' to write such a letter. Alternatively, you might simply be somebody who knows the person who needs the reference really well and it may not even be with regard to a job application but may be needed as a character reference for some other purpose.
How to Write the Letter
The two most important things to establish before attempting to provide a written reference for somebody you know is for what purpose they need the reference and what kinds of things are they looking for you to include. This can often be determined by having a chat over the phone with them or it may be stated in the letter they send to you, if they have made a written approach to you for a reference. However, if you're in doubt about what to include or feel that you are unable to provide them with a written reference for whatever reason; you should contact the person directly and discuss it with them further.
Another thing to bear in mind is the speed of your response. Quite often, a person who has asked you to provide a written reference for them may be relying on a fast response from you in order to meet a deadline for a job application, for example, so you should try to honour their request quickly if you agree to provide them with a reference.
Finally, ensure that your response is favourable and that it 'fits' with the purpose of the reference. If it's job related, for example, the employer might want to know about their character and personality in addition to their skills and competence to do the job so if you're unsure as to what to include, speak to the person requesting the reference first of all.
You might also like...
The problem comes if you've been asked for a reference and you don't think the person deserves a really good one. It's difficult to be lukewarm without seeming offensive, although it can be tempting to give an excellent reference to get the person out of your department! It can be best just to list their skills and good personality traits, like excellent team member, and let someone else make the decision.
Caroline
- 27-Jun-12 @ 11:05 AM