Introducing Your Business or Service by Letter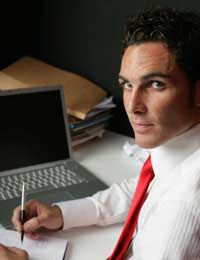 Some people who set themselves up in business or who are looking to earn money from the services they can provide tend to forget that it doesn't matter whether you have skills which are in great demand if you don't have a good marketing strategy to help you stand out from the 'crowd'. Even if your services are unique and you think you have found a niche market it won't matter a jot if people don't know about them or you don't bother to do your homework and introduce yourself favourably and to the right people.
Do Your Research!
As an example. How often have you heard the following or something along similar lines, "I have to laugh, I got this thin, tacky leaflet which was already ripped when it came through the letterbox today with the name of some bloke from Torbridge who's a chimney sweep. Didn't include anything else apart from his mobile number. Don't think he must have looked up at the roof. We don't even have a chimney!!"
This might seem amusing at first – the guy is obviously looking to increase his business but he's already failed in a number of key areas. Firstly, poor presentation – he's using cheap leaflets which rip easily. This might beg the question – if his advertising material is shoddy, might his workmanship be the same too? Secondly, he's obviously got a skill and trade that, although in some areas might be an outdated tradition or skillset, could still be highly valuable in an area where there are still lots of chimneys so he's not done any of his homework as to who and where his potential customers might be. Also, the lack of information contained within the leaflet would, perhaps, make the recipient think, "What's so special about this guy. There are several chimney sweeps in the Yellow Pages, this guy's just told us what he does, what his telephone number is and that's it. No mention of qualifications, experience, customer testimonies, ideas of cost, nothing!"
The truth of the matter these days is that most of us are overloaded with junk mail as it is. There are inserts in free newspapers advertising all manner of products and services and there are often more inserts than there are pages in the newspaper itself. Then there's the post. How often do you pick up your mail lying on the hall carpet and sift it quickly on the way back to the lounge or kitchen? "Addressed to me personally… I'll open it. Addressed to 'the Occupier'…bin. Leaflet…definitely bin!"
How to Write the Letter
A letter to introduce your business is often more productive but only if it's going to get past the 'sifter'. So, use the phone book to obtain addresses of individuals that might be able to make use of your services or products. If it's a company, give them a call and ask the receptionist who would be the best person to send the letter to and then, just as importantly, make sure you stand out from the crowd. Use quality paper and ensure it's all properly typewritten and that the spelling and grammar is correct. Make sure the presentation can't be faulted.
As for content, make sure you tell the recipient what you are offering, what makes you stand out from the rest and back these things up with other examples. You don't need to include your version of 'War & Peace'. Keep it interesting and to the point, instil an interest and desire and then a call to action. Always leave the reader intrigued to find out more.
Here is an example of how you might introduce your business or services.
Dear Mr Johnson,
Do you want to feel SAFE and SECURE?
Here at DDI Alarms Ltd, and with over 30 years of experience, we appreciate that the safety and security of your premises are vital to your business operations. The upheaval of a break-in, the loss of computer data and the theft of stock are just some of the alarming issues you'll be faced with if you're broken into.
Unlike other companies - We don't simply sell burglar alarms. We are unique and appreciate that each individual company's security needs are specific to them. We take the time to get to know you personally and then tailor make total security solutions to fit your exact requirements. All of which are personally installed by our highly-trained and qualified security experts.
Our prices are extremely competitive and our after-sales care is unparalleled. What's more, let us install one of our latest, state of the art CCTV systems and we'll give you over £500 worth of mainframe computer data back up software absolutely FREE!
So, call us today on 01456 345287 or visit our website at www.ddusecurityalarms.co.uk to view our systems solutions and to read some customer testimonies.
PS Don't delay, let's stop intruders at play!
Yours sincerely,
David D. Underwood
Managing Director
DDU Alarms Ltd.
You might also like...
How can someone write a letter introducing the company to the embassy
guylove
- 1-Sep-12 @ 11:19 PM
Thanks..letteris very understandable and simple language..i have 1 question ... how to introduce a new company to other companies..and which font we should use? and watz the fond size? plz describe...
shaj
- 26-May-12 @ 11:51 AM
no comments , only joiningthis web site for improvement of communication
ahmad
- 3-May-12 @ 12:30 PM
Excellent introduction. I am already using it with little alterations.
Shravan Kumar
- 9-Sep-11 @ 12:30 PM
Introductions are never easy. Thanks for the useful infomation. Mind blanks are common when trying to find the right words and sequence of events. Your information helps tidy things up!!
BaggieShorts
- 21-Jun-11 @ 9:16 AM