Accepting a Resignation by Letter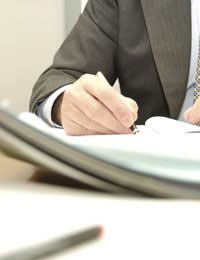 An employee might resign from a particular post held within a company for any number of reasons. It could be that they've been offered a better job or they might have personal reasons for their decision e.g. they may have to leave to take care of a member of their family or they may be looking to take a lengthy period away from work to go and do some travelling.
Alternatively, a person may have to retire on health grounds. It might also be that the employee wishes to resign as they don't feel valued by the company or that the job they had accepted didn't, in fact, match up to what the employee believed was on offer.
On the other hand, they may be 'forced' into handing in their resignation by their employer for one reason or another. For example, they may not have done something which warrants being sacked but they may have conducted themselves in such a way whereby the employer has 'hinted' that it might be best for all concerned if the employee considers tendering their resignation.
Just as it's courteous and proper to put a resignation in writing, then so it is just as proper to accept the resignation formally, in writing.
However, the style and the tone of the letter will usually be determined by the circumstances surrounding the resignation. For example, if the employer is genuinely sorry to lose the services of the employee, then the letter can express those sentiments stating that they will be sorry to see the employee leave and can wish them well in their future endeavours. But, if the resignation has been, somewhat, forced by the employer, then you needn't express those kinds of sentiments in your response as, in effect, you wanted the employee to leave anyway.
Whatever the circumstances are leading up to the resignation, however, the one thing any resignation acceptance letter should have in common is that it should be written with dignity, no matter what the reasons are for the employee's resignation.
Letters of this type should be written as soon as a person hands in their resignation. They may be formal or informal depending on both the circumstances leading up to the resignation and the employer's personal relationship with the employee.
You might also like...