Replying to a Job Advertisement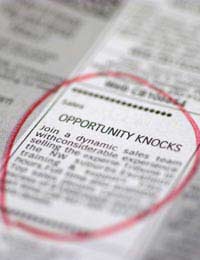 When an employer places a vacancy in the jobs section of the newspaper or on the internet, it will usually attract many applicants and, in some cases, far more than the employer anticipated. It's not uncommon for employers to be inundated with applications, often several hundred.
In these instances, the employer or the HR department will only have a limited time in which to sift through all of the applications and they won't have the time to read through them all thoroughly in the initial stages of consideration. In fact, although all applications will be looked at, if there are several hundred, the initial sift may mean that they have to whittle the applications down to maybe 20 or 30 for the next stage of the recruitment process quite quickly. Therefore, they'll tend to do the first sift very fast and your application might only have half a minute or even less to make an impression. Therefore, no matter how much you feel you would be perfect for the job and that you can back that up with qualifications and experience, you're unlikely to even get past the first sift if your letter is badly presented.
How to Prepare and Write a Good Responce to a Job Advertisement
So many people are in such a rush to get their application off in the post that they forget the basic principles of good presentation. Some will use poor quality small sheets of notepaper. Others will handwrite their application, which is not a bad thing in itself, but if the quality of your handwriting isn't of a high standard, then you would be wise to use a PC or, at least a typewriter. Nothing puts an employer off more than ineligible handwriting.
In fact, if you have a PC or typewriter or have access to one, you should always type any job application you make, unless specifically asked to apply in your own handwriting in the advertisement.
You should stick to no more than one side of A4 paper as a rule and always refer back to the advertisement. Pay close attention to the skills and personal qualities which the employer is looking for and use sections of the letter to demonstrate how you possess those skills and qualities citing some examples from any previous employment.
You might also like...