Writing an Effective Letter of Complaint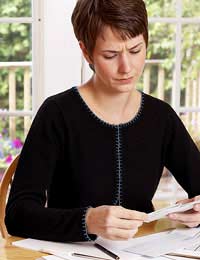 Writing a letter of complaint is a great way to let a person or organisation know that you were disappointed with the goods or services that they provide. However, a letter of complaint is not a vehicle for whining or making accusations. Instead, an effective letter of complaint should stick to one subject, include the facts of the matter and state what it is that is wanted as a resolution to the incident.
These letters should always use a polite, professional tone and be addressed to an individual who has the authority to look into the matter. Letters of complaint should also be sent/delivered as soon as possible following an incident. Of course, the optimal delivery date will depend upon the nature of the complaint but a good rule of thumb for most complaints is to send out the letter within a month of the incident.
Stick to One Subject
When you're annoyed about something it's easy to summon up a number of complaints related to the irritating event, but for the most effective letter of complaint possible it's better to stick to one subject at a time. If you were disappointed in customer service, for example, it's better to use your letter of complaint to expound on just this one subject rather than also mentioning that you don't understand the shop's pricing policies and latest window displays as well. Focusing on one topic will allow you to get your point across as briefly as possible and it will also mean that those who read your letter won't be distracted by other facts or be able to argue that you were unclear.
Include the Facts
Speaking of facts, make sure to include many in your letter of complaint. In fact, give as much factual information as possible about the subject of your complaint and try to keep subjective opinions to a minimum. For example, rather than writing that you felt a shop assistant was 'rude and unhelpful', state that the shop assistant failed to greet you, refused your request for help in looking for a specific item and told you that it 'wasn't her job' to check the stock room for the item. If there were witnesses to these events, include their name or the number of witnesses to let others know that this incident was observed by more than just you. This will lend weight to your complaint as it illustrates that the incident impacted on many potential customers or clients.
State the Desired Resolution
It may be that you are complaining because you are angry, or because you believe you deserve something to make up for the inferior goods or service. Be clear about why you are writing and what you feel would be a satisfactory resolution to the complaint. If you believe that customer service training needs to be reviewed then state this. If you feel you should receive an apology as well as a free replacement of defective goods, then state this. However, remember that keeping your requests of the same magnitude as the complaint will increase the chances of attaining the desired results.
Polite, Professional Tone
No matter how upset you are about something, losing control or using your letter of complaint as a way to be rude is not appropriate. Instead, stay calm and focused and employ a polite, professional tone in your letter. Have a friend proofread your letter to make sure that it makes sense and addresses the issues about which you are concerned. Also consider writing the letter and letting it sit for several hours or a few days so that you can come back to it when you are certain that you are calm and ready to be objective.
Addressed Correctly
When you send a letter of complaint, make sure that it is addressed to the person or department who has the authority to investigate the incident and bring about your desired resolution. It can be tempting to send your letter right to the top, for example to the owner of a shop, but this may not be the person who makes decisions regarding customer or client complaints. Large organisations often have policies in place regarding complaints, so be sure to check a website or call directly to find out how and to whom complaints should be made.
Sample Letter of Complaint
Mrs. Joanne Anderson
Mailing Address

18 March, 2009
Complaints Department
Organisation
Mailing Address

To Whom It May Concern,
I ordered six books from [Organisation] on 02 February, 2009. I ordered these items online and paid extra for two day delivery. My reference number for this purchase was [Reference Number].
When my items were not delivered by the guaranteed delivery date I called your Customer Service line and spoke with Gary. He assured me that the items had been shipped and that I would be refunded the cost of the upgraded shipping. As of 10 February the items still had not arrived and Garry assured me that they were on their way. On 15 February I attempted to cancel my order for a full refund but my account online showed that items had been shipped so cancellation was impossible. I then called Gary and he guaranteed me that I would be refunded the cost of this order. Today, 18 March, 2009, I have yet to receive the items and I have not been refunded any amount.
I would now like an explanation for this situation as well as a refund of everything that has been charged in relation to this order - £72.15. Unfortunately, at the moment I could never feel confident in purchasing from [Organisation] again, nor could I recommend [Organisation] to others. I look forward to you convincing me otherwise.
Sincerely,
___________________
Joanne Anderson

You might also like...