How to Write an Email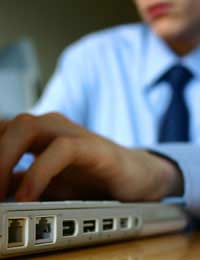 As with mobile phones many people would be lost without the instant communication offered to them by e-mail. Electronic communication has revolutionised most people's lives to one degree or another and never more so than within the business community.
We can now communicate globally in writing using e-mail within a matter of seconds the length and breadth of the planet, with few exceptions. It allows people to communicate whilst they travel in cars and on trains, boats and planes, enabling them to keep in touch with the office and, perhaps ominously, the office can keep in touch with them.
We can now send documents, photographs, audio and video with a simple click of the mouse.
However, it also has its disadvantages. As mentioned above, we can be contacted almost 24 hours of the day and some people can sometimes feel they are tied to the office full-time. Even during their free time and whilst on holiday, people can feel compelled to check their e-mail every day to stay in touch with what's going on and to avoid missing a potential business opportunity or a crucial e-mail regarding work.
Another disadvantage of e-mail is the way in which we communicate when using it. Because it's such an instant form of communication, three problems often arise. Firstly, unlike a letter, an e-mail is not necessarily going to be read by just the person it was intended for. The sender might have intended it to be private but once sent, it's out there to be manipulated and sent to as many people as the recipient cares to forward it on to, should they choose to do so. This has often caused many problems in the business community where, for example, a person has criticised their boss to a fellow colleague by e-mail and the boss has also ended up receiving it.
Secondly, e-mails can often be sent in the midst of a person feeling extreme emotions when they write it. It may be that they're feeling aggrieved about something that's been said to them by a work colleague and they fire off their feelings in an e-mail. Unlike in a letter whereby more careful thought tends to be put into a handwritten letter and, as more time will have elapsed between composing it and sending it, it is far less likely to be highly charged and cause offence and also less likely to be misinterpreted.
Also, many working hours are lost by people abusing the privilege of e-mail. Some people spend hours of their working day firing off e-mails and jokes to colleagues when they should be working and others have even been known to waste time sending an e-mail to the person sitting right next to them when it would be far quicker to talk to them face to face.
In general, most companies tend to have an e-mail policy firmly in place. As a basic rule, if you are writing an e-mail for business purposes, it should still be business-like, whether formal or informal, and contain information specifically designed to speed up the communication process and further enhance the profits and reputation of the company. It's not to tell Joe sat next to you what a 'brill' time you had in the pub last weekend or to tell your friend how awful your boss' wig is. Remember, most companies can take the abuse of e-mail very seriously and such activity can often result in disciplinary action.
Here is an Example of a Business e-mail that Would be Perfectly Acceptable
It is addressed to Jane, Alan and Carly as the sender (the team leader) is going to copy (cc) it to all members of her team – another great time saving device!
How to write it
Jane, Alan and Carly,

I just want to thank you all for the effort you put into the recent promotion for the all-inclusive Mexico holidays incentive.

I have just been sent the results and our team came first on volume of commissions gained through sales of both hotels and car hire added to flight only bookings. We gained 23% conversions which was 6% more than Jo Allen's team who were worthy runners up.

In recognition of your efforts and achievements, I have arranged for us to go on a paintball adventure at Ostley Park on January 16 followed by dinner at the Foxglove Hotel later that evening. All expenses paid of course, just bring a few quid for drinks after the meal.

You will also receive your well earned commission for all the sales you obtained in next month's pay on January 31.

Please can you let me know that you will be attending the paintball and the meal as soon as possible, so that I know the number of people I need to book for.

Thanks once again for all your hard work. It's a great achievement for all the effort you all put in.

Best,

Sarah
You might also like...