How to Address Someone in a Letter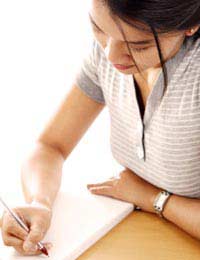 The main 'rules' associated with how to address someone at the opening of a letter mainly fall into two categories. Those being whether or not you're writing to a close friend or family member informally, or writing to an individual within a company or other organisation on a business matter. It is particularly important, especially with regards to a business letter, that you address the intended recipient correctly.
Informal Letters
If you're writing a letter to a friend, family member or to a business associate (if you personally know them very well), the most common salutation would be 'Dear John,' i.e. Dear, followed by their Christian name. Some people might even resort to dropping the 'Dear' to make it even more informal. To end the letter, some people might simply just sign off by scribbling their name. Other variations include these valedictions below, followed by your first name on the line underneath:
Best wishes,
Best regards,
Regards,
All the best,
Take care,
However you decide to 'sign off' an informal letter is mostly a matter of personal preference and will be based upon the nature of your relationship to the recipient of the letter.
Formal Letters
If you're writing a business letter of any description or to somebody whom you've never met, it's crucial you open it properly if you wish to appear business like. People will read a lot into how you address them and an improper greeting may set the tone for the way in which they perceive your letter and how serious they'll take it so it's important to get things right from the start.
If you know the full name of the person you're writing to, you should begin with one of the following using the name Smith as an example:
Dear Mr Smith, - if it's a man
Dear Mrs Smith, - if it's a married woman
Dear Master Smith - if it's a young boy
Dear Miss Smith, - if it's an unmarried woman or young girl
Dear Ms Smith, - if you're unsure whether or not the woman is married.
Note: Some women don't like the 'Ms' prefix and if you've received a letter signed by, say, a 'Jane Smith' which doesn't give you a clue as to their marital status, it's sometimes worth a quick call to the company to see if the receptionist can tell you what's the best format to use. If in doubt, however, using Ms is probably more polite than using 'Dear Jane' in your response, unless you've established some kind of verbal rapport with her first. Also, note there is no full stop after Mr, Mrs, Miss or Ms and you should put a comma after their name, although many companies tend to ignore the comma when they send out letters themselves.
If you don't know the person's name but you know their sex, the usual format is then 'Dear Sir' or 'Dear Madam'. That said, many companies expect you to do a little 'homework' these days so if you've a particular reason to send a formal letter to a company, you should try to find out from reception, the name of the person you should send it to, whenever possible as they're more likely to read it personally. It's considered even less appropriate if you've not bothered to find out the person's sex, so you should try to avoid 'Dear Sir or Madam' or 'To Whom It May Concern', at all costs, if possible.
If you address someone as Sir or Madam, no doubt that will be on the envelope too. In this situation, you may find that the letter may be read only by the person sifting the mail which might be the office junior or, at best, may only get as far as the intended recipient's secretary or PA so it's always useful to try to find out a name.
Then there are other variations of the Mr, Mrs, Miss, Ms standard addressing formats. For example, your opener may include any of the following, depending on the recipient's job or professional status. Here are a few variations below and, if you're in doubt, you should once again call the company or organisation and find out or, in the case of replying to a letter, refer to the letter that was sent to you. However, you might address someone as:
Dear Dr Smith,
Dear Nurse Smith,
Dear Colonel Smith,
Dear Professor Smith,
Dear Father Smith,
Dear Lord Smith,
Closing a Letter
Addressing someone correctly in a letter doesn't just stop at how you open a letter but also how you close it and, with an informal letter, there are just 2 easy 'rules of thumb'. They are the following:
If you know the name of the person you are writing to you should end the letter with:
Yours sincerely,
If you don't know the person's name, i.e. you begin with Dear Sir or Dear Madam, then you should end it with:
Yours faithfully,
With the 'signing off' remember, there's a comma after either sincerely or faithfully, depending on which one you use, and it's a capital 'Y' and a small 's' or 'f'.
Remember, if you address the recipient in a letter correctly, it will be received more favourably. Incorrect or careless addressing may, at best, mean your letter is looked upon as amateur and barely worth considering and, at worst, may even end up in the rubbish bin before its contents are read.
You might also like...
I am currently trying to write a letter to someone with whom I am working, but have only met once personally. How would I begin the heading without using the word 'Dear'? It feels terribly personal to begin the letter with something so familiar; is there another way to address them without the usage of the word 'Dear'?
Wondering
- 23-Aug-17 @ 8:04 PM
josie - Your Question:
What salutation do I use in a letter to the local Community Council?
---
Our Response:
It would be easier to find out the name of the person then you can address them directly as Mr, Mrs, Cllr Smith (for example).
LetterExpert
- 30-Jun-17 @ 12:51 PM
What salutation do I use ina letter to the local Community Council?
josie
- 29-Jun-17 @ 5:26 PM
a letter arrived at my house today addressed to Mrs Mark Jones is this letter for me or my wife. Also what if any legal aspects for this. sry if it's not very clear. Mark
mones
- 1-Nov-12 @ 7:31 PM
@Probert. I would imagine you might use the term 'executor' in this case?
LetterLiker
- 9-May-12 @ 12:16 PM
How do I address a letter to someone, who is now in charge of the deceased person's estate? i.e is it The Trustee of Mr Smith's estate or The beneficary of Mr Smith's estate? or something else? help!!! I dont know who this person is or the deceased solicitor etc.
Probert
- 9-May-12 @ 11:41 AM
how do you write a letter to someone(in this case a 'lawyer')who one has met just once??? He gave me his visiting card and offered me to intern under him...i wanted to get back to him on the internship...how do i start...i need to sound formal..as the guy is a big shot lawyer??
@Tudor - find out his/her surname -so if it's Jones for example the form of address would be "Dear Mayor Jones"
LetterExpert
- 30-Jan-12 @ 11:46 AM
Letter to a Council How would you begin it to the Mayor? Dear Mayor Lloyd. Dear Mr. Lloyd The Mayor,?????//
Tudor
- 29-Jan-12 @ 12:22 PM
How would you address Sir James Smith and Lady Sally Smith on the envelope and in the salutation?
Diana
- 19-Jan-12 @ 2:16 PM
@Wally. The envelope could be addressed to "The Misses Brown" or "The Misses J and M Brown".
LetterExpert
- 4-Oct-11 @ 12:11 PM
How do you address a letter being sent to 'Misses Joyce and Marian Brown' without using their christian names?
wally
- 4-Oct-11 @ 11:52 AM