Planning a Letter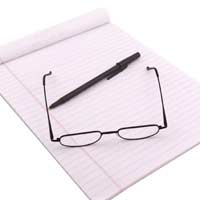 Before you even put pen to paper, it's important that you give some thought as to how you want to structure your letter. Consider the content - what is it you want to say. What will be the tone? Will it be friendly and entertaining or is it requesting a resolution to a problem?
Whatever the reason for your letter, a little planning will ensure that it reads well and gets all your points across in the most appropriate manner.
Informal Letters
There are no hard and fast 'rules' as to how to structure an informal letter. The style and the tone will probably be determined by your relationship with the person you are writing to. Usually, however, people will tend to open a letter and firstly acknowledge what a friend or family member commented upon in their last letter or, perhaps during a conversation, and then continue to go on to tell them what they've been up to. It's more about good manners than anything else and pretty similar when we meet up for a face-to-face conversation in that it still tends to be a two-way conversation, albeit in written form.
For example, if your friend has written (or spoken) to you about a recent holiday they were about to take in Egypt, for example, your letter might begin with:
Hi John,
How was Egypt? I believe you went scuba diving in the Red Sea? I bet that was great fun. By the way, Jimmy and I have just booked a short break to Venice. We're flying out on…….
In other words, just like in a conversation, they're acknowledging what their friend has been up to and showing an interest in what they've been told by their friend previously before going on to talk about themselves. Had they begun the letter telling John they were going on holiday with no mention of John's own holiday, it would seem a bit rude.
However, there isn't really a strict guideline to planning an informal letter as such. These kinds of letters tend to reflect the personalities of both the sender and the recipient and what's been going on in their lives recently and any plans they might have.
Planning a Formal Letter
A formal letter, perhaps to a person within a company whom you have never met, will differ in style and tone, depending on the reason for the letter. However, the structure of it will basically be the same.
You should try to keep to one sheet of paper if possible, unless your reason for writing is very complex and needs to be more detailed.
The opening paragraph should be fairly brief and state your reason for writing - whether that's to apply for a job, make a complaint, request information or make an enquiry and it should be quite specific so that the reader fully understands the reason you've chosen to write to them.
The next couple of paragraphs should elaborate a bit more and expand upon your reason for writing. For example, if it's a job you're after, the middle part of the letter should demonstrate why you want the job and what skills and personal qualities you have that would make you an ideal candidate. If it's a letter of complaint, the middle section should tell the reader what specifically happened. For example, you may have told them in the first paragraph that you were writing as the washing machine you bought from them a few weeks ago has broken down suddenly. The next couple of paragraphs should go on to say what happened. It might say something like,
"The machine was going into a fast spin cycle when there was a loud bang and then smoke appeared from the back, at which point I turned off the electric."
Finally, your final paragraph should suggest to the reader what action you want them to take. For example, with a job, you might put,
"Thank you for considering me for the vacant post and I look forward to hearing the outcome of my job application soon."
With the washing machine problem, it might read,
"As I'm currently without a washing machine, I look forward to hearing from you very soon to discuss how we can resolve the situation."
In both instances, you've subtly, but clearly stated what you expect the recipient to do next.
All formal letters follow this kind of structure to one degree or another. It's important to structure your letter in plain English and keep to a few short paragraphs. Be firm, if needed, but never too pushy or threatening (especially in a complaint letter) and state clearly what you expect the recipient to do next.
Careful planning of your letter, before you put your thoughts down in writing, tends to produce a more professional and cohesive letter that will give you the best chance of obtaining the desired result.
You might also like...