The Layout of a Letter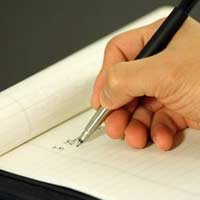 There are many components that make up a successful layout of a letter and they can vary to a certain degree, depending on the nature of the letter itself and your relationship with the recipient. You may know the person you're writing to and maybe able to adopt a less rigid and more informal tone or, perhaps, you don't know the person which will also have an effect upon the style and tone of the letter. In some instances, you may not even know the person's name and if you're simply writing to a particular department within a company, for example, and you're unsure as to the person who will actually be reading it, there are other 'rules' you should also follow.
Different Types of Letter
Many of us will be familiar with using e-mail to correspond with both personal friends and also companies. However, there will always be occasions when an e-mail simply won't do and whatever communication technologies emerge over the next few years, letters will never disappear entirely and are always going to be an important form of communication. Putting things down in a letter and doing that correctly and following the most appropriate style which is specific to the contents of the letter and to whom it will be addressed, will always be important and a well-thought out letter constructed correctly will always be considered more seriously and more favourably over an e-mail which is more likely to be written on impulse and will have had less thought and effort put into it.
There are so many different types of letter and they all have to be constructed differently. There is personal correspondence - usually letters to friends or family, such as wedding invitations, condolence letters in the event of a death etc. Then there are business letters which can concern issues like job applications, resignation letters and job references. There are also letters of complaint which might concern a product or service you've received.
In fact, there are so many topics and issues where it is more appropriate to write a letter than to send an e-mail or make a phone call and it's important you tailor the letter to suit each individual situation.
Standard Layout of a Letter
The basic layout of a letter (how it appears when it's opened) can vary to a degree but, regardless of subject matter and with your relationship to the recipient, the basic layout of the letter itself will be pretty similar across the board.
You'd usually begin by including your address at the top right hand side of the page. Each line of your address should be directly underneath the previous line, not on a sloping scale and you should remember to include your postcode at the bottom on a separate line. Some people place their address in the middle of the page at the very top of the letter and this is acceptable but the more traditional approach places it on the right hand side. Below the address, leave a space, then include today's date. If it's a formal letter, write the date out in full, e.g. 21 July, 2006 not July 21st, 2006, 21/07/06 or 21/07/2006.
Leave another space then move across to the left hand side of the page and, following the style above, i.e. one line directly underneath the other, put the recipient's name and address. Remember to put their name and job title, if appropriate, on top of the address.
Leave another space and then directly underneath the address you can begin with a salutation (greeting) which will always begin with 'Dear….' followed by a comma, (We'll come to show you how you address the recipient elsewhere in this section).
Then, leave another space and directly underneath, you can then begin your letter. Once you have finished, leave another space then close it on the left hand side with a valediction (indication of the end or departure). This might be 'Yours sincerely or Yours faithfully' for a formal letter and, for an informal letter can be pretty much anything although 'Best regards' or 'Best wishes' are two of the most common forms of closure. We'll come to what you should choose as a valediction in another article.
Then, for a formal letter, leave a couple of spaces in which to put your signature then, beneath that, put your name in clear lower case lettering, i.e. John Smith not JOHN SMITH. If your job title is relevant to the content of the letter, include that below your name.
Don't include a PS on a formal letter.
General layout rules
Formal letters these days tend to be taken more seriously and considered more favourably if they are written using a PC or, at least, a typewriter. That said, some companies - especially for certain job applications - prefer handwritten letters, though that is usually specified in a particular job advertisement. In general, however, typing is best.
Try to include everything on one piece of A4 paper, especially if it's a formal letter. Don't write one long continuous stream of text but divide the letter up into a number of paragraphs and you shouldn't indent your paragraphs. If you do need more space, use a second sheet. Don't use the reverse of the first sheet. If you are using a PC or typewriter, make sure that you write your signature by hand in pen.
As mentioned earlier, letters will differ but in following the basic layout above as a general starting point, your letters will appear more professional and will demonstrate to the recipient that you have put time and effort into your correspondence which means more chance of it being considered seriously.
You might also like...
I'm helping my son with his homework and this is good, but there could be a picture to help you understand.
maxwg
- 5-Apr-11 @ 7:24 PM