Letter Requesting Exemption from Jury Duty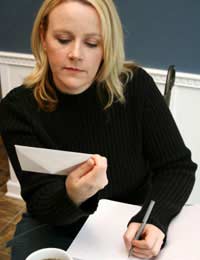 When considering requesting exemption from jury duty, in the vast majority of cases, this would mean that you are looking to defer the date upon which you've been asked to serve. Jury service is a public duty and unless a person has a legal right to be excused or has been disqualified from being able to sit on a jury, once summoned to serve, you will be required to do so.
Exemption
Those who would not be permitted to sit on a jury would include lawyers, those who work within the prison service and those who have been in prison themselves or are on bail awaiting their own court case or have been in youth custody or given a suspended sentence. Those who have been diagnosed from suffering from severe mental health problems now or in the past or have disability issues may also be excused but, other than the aforementioned and a few other exceptions, such as having extreme difficulty understanding English, if you have a certain obligation to providing round the clock care to somebody or where your religious beliefs are not compatible with being a member of a jury - getting out of jury duty isn't an option.
If you do feel you have a case for being excluded, you can write a letter to the Jury Central Summoning Bureau, whose address will be on the summons you are sent, but in principle, what we're dealing with here is a letter to ask for deferral of your jury duty.
What Reasons Would You Give for Deferral in Your Letter?
Firstly, a Trial Judge would not be so inflexible that they would not be prepared to tolerate a deferral of your jury duty. On the contrary, they understand that there will be a variety of circumstances that could prevent you from attending on the dates for which you have been summoned – jury service lasts around 10 days, although there are exceptions. The type of reasons they will look upon more favourably when considering a deferral would include illness or recuperation after a major illness or scheduled medical treatment such as an operation, a pre-booked holiday or, if self-employed, where your business might suffer as a result.
The important thing to bear in mind is that you can only defer jury duty once and can only do so for no more than 12 months from the original date you were summoned to appear so you should ensure that you include all the dates you aren't going to be available within that 12 month period. You should also note that the trial judge is under no obligation to grant you deferral but, in most instances, it will be granted if you give a sufficiently valid reason.
Example of a Letter to Apply for Deferral
To Whom It May Concern
With regards to your letter dated December 21, in which I have been asked to serve on jury duty from February 12, I would like to ask if it would be possible to defer this until sometime next year. The reasons being that I am just getting over a major operation as a result of a serious car crash back in November and I am in no fit medical state to be able to attend court from the date you have asked me to.
I would also wish to defer my jury duty obligations for the whole of this year, if possible, as my husband has already booked a holiday for me for later in the year from October 20th to November 5th to visit relatives in Australia which is something to aim for as I continue my recuperation from the accident.
I would be very grateful if you could agree to this request and if you require me to provide you with any further information, please do not hesitate to contact me.
I look forward to receiving your response.
Yours faithfully,
Mrs June Brown
You might also like...