Quiz: Are Your Christmas Letters Entertaining?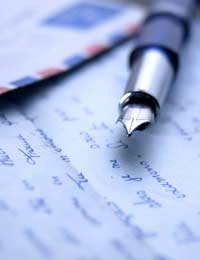 Christmas letters are a chance to update family and friends on what has happened throughout the year, but because they often contain a great deal of information they can easily become too long and unwieldy to truly entertain their recipients. The best holiday letters are those which provide recipients with pertinent information, but also keep them interested in what they are reading.
Before the next holiday season complete this quiz to find out if your Christmas letters are entertaining, or if they make your loved ones want to roll their eyes.
1. You usually write your Christmas letters:
A.
In front of the television.
B.
Over the course of a week or so.
C.
In one quiet afternoon, but then revise it a few times to make sure it's just right.
2. The one thing you like to avoid in Christmas letters is:
A.
Disappointment. Who wants to read about that?
B.
Brevity. When else can you write as much as you want about yourself?
C.
Sarcasm. It's unnecessary and easily misunderstood.
3. Your last Christmas letters were:
A.
Never commented upon. You don't even know if they were received.
B.
Teased. But that's just because everyone like them so much, right?
C.
Complimented. Many people thanked you for staying in touch and sharing.
4. The perfect length of a Christmas letter is:
A.
A paragraph. Just enough to make your life sound perfect.
B.
Multiple pages. You don't want to forget any details!
C.
A page. Just enough to get in all of the important news.
5. Referring to people outside of your family in your Christmas letter is:
A.
Silly. Why would you write about anyone else?
B.
Important for writing about every single thing you did this year.
C.
Entertaining for recipients who know those people too.
6. Letting other members of the family contribute to your Christmas letter is:
A.
A bad idea. They could say anything.
B.
Funny. Particularly when the kids write inappropriate things.
C.
Cute, so long as you edit everything correctly.
7. Your Christmas letters are generally:
A.
Handwritten. Who cares if your handwriting is hard to read?
B.
Printed in fun font. It shows how creative you are.
C.
Printed in a plain font that is easy to read, but with a decorative border.
8. When it comes to sharing sad news in a Christmas letter, you:
A.
Don't. Ever.
B.
Keep it brief and move on.
C.
Give it the appropriate amount of space, and try to add the "silver lining" too.
9. If one of your family members didn't have a good year, you:
A.
Leave him or her out of the letters completely.
B.
Acknowledge everyone's achievements, and note that (s)he didn't have many.
C.
Find a way to say the same things about everyone so no one feels left out.
10. Your "practice" readers usually:
A.
Are non-existent.
B.
Say your letters contain a little bit too much, but hey, it's your letter.
C.
Advise of a little editing here and there, but usually say your letters are fun to read.
Are Your Christmas Letters Entertaining?
Mostly "A"
- it is unlikely your letters are entertaining. You most likely don't put much thought into your letters beyond wanting them to be a showcase for your yearly achievements. Keep your recipients in mind at all times, and remember that a letter full of praise for yourself and your family may be read as egotistical or even obnoxious. Solicit feedback so that once you know how your past letters were received you can make changes in the future so your future letters are better received.
Mostly "B" - your letters may be entertaining. You undoubtedly mean well, and you are probably excited about and enjoy the process of writing them, but your enthusiasm may lead to these letters encompassing too much. Christmas letters which are too long can be a drag for others to read. A good rule of thumb is to either keep your letter to one page, or to one paragraph per family member (four family members means four paragraphs in the letter). When your letters become quick and uplifting to read then they'll certainly be entertaining.
Mostly "C" - your holiday letters are probably entertaining. You keep your readers in mind at all time and don't feel the need to gloss over sad news or stuff your letters full of only praise-worthy information. You know that a one page maximum for these letters helps to keep your writing tight and your letters entertaining, and that it never hurts to ask others to look over your work before you confirm the final draft. Keep up the great work and you might just find others asking you to ghostwrite their letters in the future!
You might also like...