Second Letter of Complaint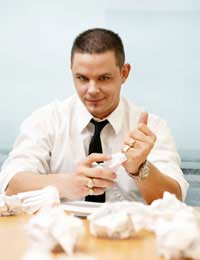 More often than not a polite but firm, well-thought out letter addressed to the correct person will usually get the ball rolling in terms of you receiving a satisfactory resolution to your complaint.
Whether you're complaining about faulty goods you've bought or you've received sub-standard service, no company wants to be viewed in a bad light and are only too willing to put things right for a customer to maintain a positive image. Both companies and consumers alike are well aware that although most reputable companies strive to provide a positive experience for each and every one of their customers, sometimes things do unwittingly go wrong and a company or individual who is responsible will usually pull out all the stops to ensure that they maintain a good reputation.
When to Write a Second Letter of Complaint
However, there are some instances that might occur from time to time where a customer's written complaint has been ignored, mislaid or, perhaps, dealt with but not to the satisfaction of the customer. In these cases, it might be necessary to send a second letter to the company in order to try to gain a satisfactory resolution.
Let's take the example of the holiday from earlier. Mr Atkinson gave full details of his complaint to the travel company and did, in fact, receive a prompt reply. He was offered a full apology for the problems that occurred during his holiday and was offered a voucher worth £300 off his next booking with the company.
So, in effect, some might argue that Mr Atkinson has been sent a fair and just response to his complaint. He wanted an apology and got one and asked for compensation and been given the offer of it. Shouldn't he be satisfied?
Well, there's no real definitive answer to that. Some people might be grateful and accept the offer but when you consider that the first 2 days of his 7 day holiday were completely ruined by what had happened and the fact that he had paid £1350 for the holiday, then £300 might, to some, seem a fairly paltry and derisory amount.
If that's his opinion too, then Mr Atkinson has every right to send a second letter to the company. Once again, it should be written in a polite but firm manner, only this time, it should indicate what Mr Atkinson is seeking in order to appease him and the next steps he will take if the situation remains unresolved to his satisfaction.
Here is an example of how a second letter of complaint to a holiday company might be worded
Dear Mr Cavanagh,

I am replying to your letter, dated 29 December in response to my original correspondence to you about my stay at the Hotel Miramar, dated 19 December in which I described how my family were badly mistreated during our holiday booked through your company (Your ref: 34512/RT).

Although I do appreciate the fact that you got back to me promptly and have acknowledged that your company were at fault, I regret that I cannot accept your offer of a £300 voucher off my next booking with you as adequate and neither is it appropriate compensation for the ordeal your company put us through in my opinion.

As stated in my previous letter, the holiday cost £1350 in total and the first 2 days were totally ruined, as you rightly acknowledged in your response. The value of the voucher you have been prepared to offer me does not even compensate for those first 2 days were we never received the level of service we had been promised when we booked. Furthermore, those events ruined our experience over the entire week of the holiday. A voucher would simply not be acceptable as I would not wish to travel with your company again after our experience and the value of the voucher is also a derisory sum, in my opinion, given what we've endured.

Therefore, I would urge you to reconsider your offer and I would be prepared to accept a 75% cash or cheque refund of the money we paid for the holiday as fair and just compensation. This equates to a refund of £1012.50.

I hope you will agree that this figure is fair and respond with a cheque or payment back to my card of the said amount within 28 days of this letter. If I do not hear from you by then, I will have no option but to seek legal advice with regard to pursuing my compensation claim further.

I look forward to hearing from you soon.

Yours sincerely,

Colin Atkinson
You might also like...
why is it that there are templates for letters of complaint for the horrendous holiday I have just had but I am now stumped.the holiday company have not acknowledged the letter and I don't know how to write the second one.
kim
- 18-Oct-13 @ 4:11 PM