Cover Letter for a Travel Insurance Claim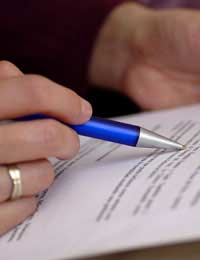 It is most unfortunate when plans go awry on holiday, though the silver lining is often that a good travel insurance policy may help cover some of the costs of lost luggage, cancelled flights, emergency medical assistance and other travel disasters. In order to get your reimbursement, however, you will likely need to submit a claim. This claim may require some sort of cover letter explaining the situation. Such letters should summarise the facts of the claim and be formatted as formal business communications between the letter writer and the claims assessor.
Contents of a Cover Letter for a Travel Insurance Claim
A cover letter for a travel insurance claim usually includes the paperwork required by the insurance company as attachments so the letter itself generally summarises the enclosed forms and papers. Such letters often include:
The names and account numbers associated with the claims.
A list or summary of the forms and other documents enclosed with the claim.
A short summary of what is being claimed, including a monetary amount.
An explanation of how the monetary portion of the claim was assessed.
A reference number if the claim has been reviewed prior and/or is now in dispute.
A reminder of previous actions taken by the insurance company or yourself on this claim.
A statement of what steps the letter writer would like to see the company take next.
Example of a Cover Letter for a Travel Insurance Claim
Ms. Marie Mullen
Mailing Address
13 December, 2010
Mr. Frances Hodgens
Claims Adjuster
Terrific Travel Insurance
Mailing Address
Claim Reference Number: AE237Y68
Dear Mr. Hodgens,
Please find attached the paperwork for my claim of £557 from Terrific Travel Insurance as related to my policy, Happy Holidays Insurance policy number 554-2273.
As instructed by yourself in a letter dated 6 December, 2010, I have now re-enclosed copies of all receipts from the emergency medical treatment needed on my holiday to Barcelona in November, 2010 as well as copies of the prior claims forms which were for some reason denied by Terrific Travel Insurance. The reference number quoted above was assigned to this matter several weeks ago.
At this time I am deeply disappointed that this matter is still unresolved despite Terrific Travel Insurance's "guarantee" that all claims will receive "speedy, thorough settlement" with "details of all decisions communicated quickly to customers". I have yet to receive any communication as to why my claims have been denied and would appreciate a full report following this claim submission.
Thank you,
________________
Ms. Marie Mullen
You might also like...