Letter Thanking a Doctor or Hospital Staff Following Care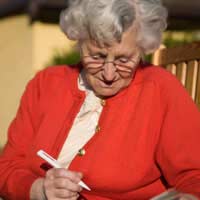 When either we or a member of our family requires medical care it is often a very worrying time and, more often than not, we're required to put our entire trust in our GP and/or the staff of our local hospital.
Once health has been restored, many of us forget that medical staff work long hours and under a great deal of pressure and so a letter of thanks will be received very favourably and it shows your appreciation and gratitude for the excellent way in which the medical team and/or your GP cared for you or your loved one. Not only that, it is also an endorsement that you feel confident about the expertise and service that you received from your care provider.
In many situations, you or your loved one will have been restored to full health. However, there are those sad occasions where a loved one may have died, in spite of the tremendous efforts that have been put in by medical staff. Once again, even though this is a sad time, it shows a great level of respect and encouragement if you still write to thank the medical team for their efforts, in spite of your loss. In many cases, they will have become close to your loved one and may be feeling the loss almost as badly as you.
How to Write the Letter
Quite often, there will be many people to thank and you might want to name them all individually. This is perfectly acceptable. However, it may be worth bearing in mind that there are likely to have been many other staff working equally as hard on behalf of you or your loved one behind the scenes so it is courteous to acknowledge other members of the staff collectively, in addition to naming any specific individuals.
Letters of this nature will be gratefully received whenever you choose to write them. However, if you write sooner rather than later, they often mean more as the staff are more likely to remember you or the patient.
Here is an example of a letter of thanks from a person who was the patient themselves.
To All the Staff on Ward 24G

I just wanted to express my thanks and appreciation for the wonderful treatment and care you all showed to me following my recent hip replacement surgery.

Before I came into hospital for the operation, I was very nervous and daunted by the fear of the unknown but you were all so kind and reassuring when I arrived which took away a lot of my apprehension.

You demonstrated your total commitment into caring for me when I was helpless in the days immediately following the operation and also gave me the support and encouragement I needed to take my first steps on the road to my rehabilitation which meant so much to me.

I'd like to particularly thank Julie Holmes and Katy Simons who provided me with round the clock nursing care and to Dr Alan Roberts and his surgical team for their expertise in the operating theatre and for their post-operative support. These were members of the team whom I saw on a daily basis and whom I became particularly close to during my stay in the hospital. However, I'd also like to thank all the other people, too numerous to mention, who all played such an important part in my treatment and recovery.

Thanks to you all, I'm now able to look forward to a long-held dream to be able to go and visit my son and his family in the USA this coming June. Without your help, this would not have been possible so you can imagine how grateful I am.

Thank you all once again for all your care and support.

Best regards,

Linda Davies
You might also like...
I can't tell you that how much you helped me by this letter ...
Darakhshan
- 4-Sep-18 @ 10:50 AM
I have seen the posts some one hasposted. I would like to get the sample of thanking letter which describes a more precise letter but with very few words, say4 - 5 lines. It should be from a third party thanking on behalf of the person who was sick. I will b grateful for your favor.
Cheeku
- 28-Aug-14 @ 6:04 AM
I think this is a brilliant idea. With all the cuts going on in hospitals, and the staff under so much pressure, a letter like this, letting nurses and others know just how much they're appreciated, can be very welcome and let them feel that all the work they do is worthwhile. It only takes a few minutes. It doesn't even have to be the patient - a member of the family can do it just as easily, and it'll still be very warmly received.
joanne
- 3-Jul-12 @ 6:13 AM
I want write a letter for one hospital nurse regarding we got good support from her side, she inform to us details each and everythinh thats why I have to wright a latter hospital superitendent.
raj
- 16-Jan-12 @ 10:55 AM
I would like a help to write a letter to MOH to provide a mammography machine in area that have a large number of population. at present we have this service in one of hospital, but there are alot of problems like maintenance, referrals problems because it should be long waiting of appointment . So want this services to be in area called Sema. but in the charges they recommended this services to be in OB/Gyn Centre that under administration ofsame hospital. my point is to avoida load and make more convenience to the patients. Please I need help to write, it will be appreciated if you send me a sample. thanking you.
Rashid
- 27-Jun-11 @ 7:06 AM
This was very helpful to me, thank you
nonnie
- 6-Apr-11 @ 2:35 AM