Letter to Neighbours Regarding Building Work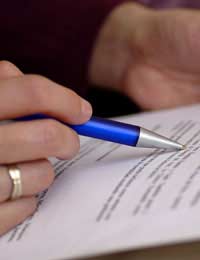 Building work can be disruptive to a small area, so it's always nice to let your neighbours know your plan when it comes to having work carried out on your home. Sending a letter allows you to address what will be happening and when, how it might impact your neighbours and express your thanks in advance for everyone's understanding. Keeping these letters more formal is a nice signs of respect for your neighbours.
The Building Plan
While your neighbours will undoubtedly have had access to your building plans during any planning permission process, it's a good idea to remind them of what is about to happen to your home and how long it should take before work commences. If you don't have a firm end date in mind, give your best guess or preface it with a phrase like "we hope work will be completed by..." or "weather permitting, we should finish between...". Don't promise anything you can't deliver, instead simply let them know the information you have to hand at the time of writing.
Impact On Neighbours
Building work at your home could have an impact on your neighbours lives, even if you have done your best to keep everything as contained as possible. When you write to your neighbours, let them know if there is anything they could expect to encounter during your renovations, including:
More vehicle traffic in the area, including parked vehicles
More pedestrians/strangers in the area as workmen come and go
General building noise during working hours
If and where a rubbish skip may be stationed in the area
If and where portable toilets will be used
If any utilities (water, gas, electricity) will be involved in the building work
Contact information for your building company should complaints arise
Thanks In Advance
In the interest of good relationships, thanking your neighbours in advance for their patience while you carry out building work on your home is important to any letter you send them on this matter. You don't need to grovel, but a simple expression that you know their lives may be impacted and you appreciate their goodwill should help everyone feel respected. If you plan to share the fruits of this work when the building is done, for example hosting a pool party or enjoying tea in a new sun room, go ahead and add this too to give everyone something to look forward to.
More Formal Formatting
Your neighbours deserve more than just a note dashed out at the last minute when you are letting them know about upcoming home renovations. Use a slightly more formal format to your letter with elements like:
Your contact information
The date of writing
Formal, personalised greetings ("Dear Stan and Martha")
Formal conclusions ("Sincerely, Enid")
A written signature
Printing on clean, clear paper in a crisp, easy to read font
A whimsical border to add a little levity to your communication
Hand delivery to your neighbours' doors or post boxes
Sample of a Letter to Neighbours Regarding Building Work
Ms. Mavis McGonagle
Mailing Address
Telephone Number or Email Address
2 September, 2010
Mr. Robert Patterson
Mailing Address
Dear Rob,
I am very pleased that work on my kitchen extension will begin soon, and wanted to let you know that the work is set to be carried out between 13 September and 18 October or thereabouts.
I have engaged Best Kitchen Makeovers to do the extension for me, and have instructed them that work may only be carried out between 8:30am and 4:30pm on weekdays. Everyone involved in the extension will need to park on the street, but all items associated with the building (skip, portable toilet, etc) will be located in my back garden out of view.
Mr. Peter Botham is the Best Kitchen Makeovers representative in charge of this work, and he can be contacted on [Phone Number] should you need to speak with him. All tradespeople involved in this work should be wearing navy blue uniform shirts at all times.
Thank you in advance for your understanding during this upcoming month of work, and I'm looking forward to many great dinner parties with you when the new kitchen is ready and working!
Sincerely,

______________
Mavis McGonagle
You might also like...
v - Your Question:
Need advice.I bought a property 15 years ago.The neighbour had his property before I could move in and lives in another country. He insist that I built a wall which has encroached on his boundary and now wants it to be removed on my expenses. If I do not respond to his demand he will demolish the wall and I must bear the cost as well.He states that the wall poses a risk and must be removed immediately. The state of the wall has been the same eversince I moved in and want to know legally what can be done and if I do not adhere to his demand.I have just paved the whole area around my property and not prepared to upset the area.Further to that , why did he allow the previous owner to continue erecting a wall that he knew that was on his retaining wall and encroached on his boundary and 15 year later is asking me to remove the retaining wall.regards v
---
Our Response:
Sorry it's not clear whether you have built the wall or whether the previous owner did? If the wall has been there for 15 years you may be able to claim adverse possession...(see our
guide here
. To establish whether it's a genuine danger, get your own survey done - that way your have an expert opion in order to prove it is not a risk.
LetterExpert
- 31-Mar-17 @ 12:21 PM
Need advice.I bought a property 15 years ago . The neighbour had his property before I could move in and lives in another country. He insist that I built a wall which has encroached on his boundary and now wants it to be removed on my expenses. If I do not respond to his demand he will demolish the wall and I must bear the cost as well.He states that the wall poses a risk and must be removed immediately. The state of the wall has been the same eversince I moved in and want to know legally what can be done and if i do not adhere to his demand.I have just paved the whole area around my property and not prepared to upset thearea .Further to that , why did he allow the previous owner to continue erecting a wall that he knew that was on his retaining wall and encroached on his boundary and 15 year later is asking me to remove the retaining wall. .regards v