Essential Employment Letter Pack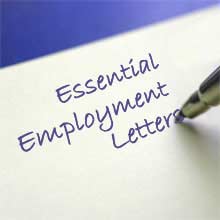 Getting a letter exactly right takes time, especially when it's an employment matter. If you have a specific letter to write then you'll find that by spending just £2.99 to download our Employment and Business Letter Templates you'll have the letter you want in just a few minutes.
We have used our most experienced writers to create the contents of the 'Essential Employment Letter Templates' pack. Our main writer has written a number of recruitment books, is the author of our CV guides and has extensive industry experience as the head of Human Resources departments. Having seen and written thousands of letters our writers know how to get a letter exactly right - both for tone and content.
So What's Included?
All the sample letters are delivered in MS Word format and are designed to be quickly and easily tailored to your specific circumstances.
Below is a list of the letter templates you'll receive:
For the Employee:
Request for Payrise or Promotion
Resignation Letter
Complaint Against a Colleague
Complaint of Sexual Harassment
Informing Human Resources of a Dispute
Thanking Your Employer for a Reference
To an Employer Praising One of Their Staff
For the Job Applicant:
Accepting a Job Offer
Declining a Job Offer
Response to a Job Advertisement
Speculative Approach to a Company
Student Speculative Application for Work Experience
For the Employer
Accepting Resignation
Approving Employee Payrise or Promotion Request
Declining Employee Payrise or Promotion Request
Farewell to Employee Who is Leaving
Informing Employee of Misconduct Allegation
Informing Staff of an Imminent Retirement
Invitation to Attend Job Interview
Job Offer Letter
Rejection Letter to Job Applicant
Termination of Employment Due to Poor Conduct
Warning Letter to Employee
What If The Letter Isn't Right For Me?
We're sure you'll be delighted with our Letter Pack but, if for any reason, the content of a template is not quite right for you then we will do one of three things:
Tailor the letter to your specific circumstances.
Refund your money in full.
Write a new letter for you and include the template in our Letter Pack.
You might also like...