Letter Writing Styles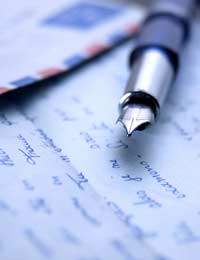 If you have ever written a letter of complaint to a company and then read it back to yourself, you'll have probably been surprised at how the letter comes across when you read it out loud to yourself.
You'll probably be thinking, "I'd never say that", "I wouldn't use that word down the pub with my mates or you might even find yourself thinking, "Hey, don't I sound posh!"
The fact of the matter is that in letter writing, particularly with regard to writing formal business letters to individuals within companies, you're unlikely to know the person you're writing to and even less likely to have met them or spoken to them previously. Therefore, in a similar fashion as to the way you might act when you meet someone in a formal setting for the first time in terms of, perhaps, modifying your behaviour and speech, so this is necessary when you're writing a formal letter.
Informal Letter Writing Style
If you're writing to a family member or close friend, your use of language and the style of your letter is going to vary tremendously to that of a formal business letter. Depending upon the content, a letter to your Mum, Dad, brother or sister or boyfriend/girlfriend will probably be written in a style not too dissimilar to the way in which you'd conduct yourself if you were having a verbal conversation with them.
You might use slang terms, colloquial expressions that are familiar to people born and bred in the same locations. You might even use expletives to get your points across that are acceptable between you as the writer and the recipient of the letter. You could also use terms of endearment that only the two of you (i.e. writer and reader) would use. All in all, you'll probably want to keep the style of your letter as close to the style of the kind of conversation you might have with the recipient of the letter if you were meeting face-to-face and this works fine as you both know each other's personalities well.
Formal Letter Writing Style
However, it's a much different proposition if you're writing a formal business letter. In most cases, you'll have probably not met or previously spoken to the intended recipient and may not have previously communicated with them in any way, shape or form. Therefore, as people who are relative strangers to each other, you have no way of knowing their personality, their characteristics, their humour (or lack of it) and so it's important that you adopt a different, more formal approach to your letter writing.
Usually, with these kinds of letters, you're aiming to put some kind of point across and you may wish to suggest to the recipient how the content of your letter makes you feel, in terms of any emotional feelings you might have as a result of the content of your letter. However, you have to temper or 'tone down' your emotions, whether positive or negative, and stick to the facts as much as possible, whilst subliminally letting them know how you feel, if it's appropriate.
Here's an example:
You may want to thank a new employer for giving you the job.
The correct way to respond
A correct opening sentence might read, "Thank you for offering me the position of Account Manager, following my recent interview. I'm delighted to accept the position and look forward to starting work for you on April 23."
With this style of letter, you've adopted the correct formal approach, acknowledged the offer, understand what it entails and have expressed your feelings about it appropriately.
The Improper Way to Respond
If you'd adopted an informal approach you might have put something like, "Cheers for giving me the job mate. I hated me other job and can't wait to get me feet under the table at your place. Can't say I wanna get outta bed an hour earlier to get there but I'll see ya on the 23rd anyway - Sunday night hangover permitting!!!"
You can see from both responses that the formal style is written in a professional manner befitting the situation and, although the informal style gives you more information as to the nature of the sender's personality, it is hardly an appropriate response.
Therefore, when writing a formal letter, stick to the facts as much as possible and put any emotional feelings into a controlled, formal context in terms of the style and manner of the letter.
You might also like...
Very nice and really impressive matter.
sebto
- 23-Sep-14 @ 10:08 AM
I have to write a letter to customer forcheck outearlier from the reservation date.
junghyun
- 3-Nov-12 @ 11:32 AM
Thanks a lot for happen me to a letter!!
fatu
- 2-Nov-12 @ 11:13 AM
this is very impressive, it helped me a lot in my exam
rosy
- 30-Jul-12 @ 3:53 PM